Elephants reign in Sherpur hill areas
At least nine people were killed in two months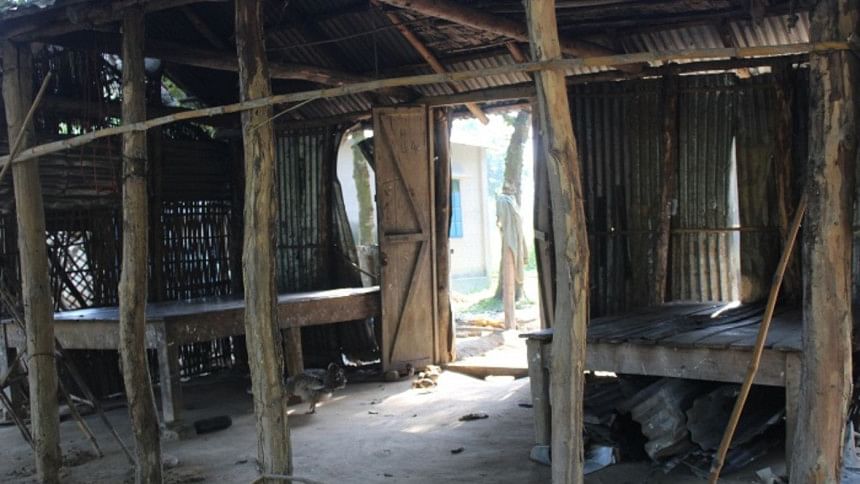 At least nine people were killed in attacks by wild elephants in two bordering upazilas of the district in less than two months.
The people of Jhenaigati and Sreebordi upazilas said they urged the government to provide them security as they are insecure. They said they are ready to go elsewhere if the government wanted them to move.
Officials of the district administration, Department of Forest and Department of Agricultural Extension said 11 people were killed and 20 others injured by the wild elephants in the upazilas from February to October 17. The elephants destroyed at least 20 dwelling houses and crops on more than 100 acres of land during the period, the officials added.
A herd of 20 to 25 wild elephants from the Indian state of Meghalaya came to Nalitabari upazila on October 18 in 2001 and has been staying in the hilly villages at Bongaon, Daodhara, Katabari and Hatipagar, the officials said. Since then, the elephants from India have been coming to the bordering villages, killing people and destroying houses, trees and crops, they added.
Residents of Bakakura, Panbar, Gurucharan Dudhnoi, Tawakucha villages in Jhenaigati said herds of elephant come to the villages from the hills in search of food. They have to remain awake at night to guard the villages, they added.
A herd of wild elephants destroyed the houses of Joban Ali, Hasen Ali, Banechha Begum and Shah Jamal at Pashchim Bakakura village under Jhenaigati on October 7.
Banechha and other affected people appealed to the government to take necessary steps to save them from attacks of wild elephants.
Marginal farmers Hamed Ali and Aynal Haque of Pashchim Bakakura said a herd of elephants has eaten up their aman crops on two acres of land.
Former Kangsha Union Parishad chairman Md Anar Ullah said attacks by the wild elephants have now turned like a  natural disaster. He said locals do not want financial support but the government steps to save them from the elephants' attacks.
Jhenaigati Upazila Chairman Aminul Islam Badsha said projects taken by the forest department should be implemented quickly to save lives and properties. Otherwise about 3,000 families would have to be shifted to a safer place, he cautioned.
Sherpur Deputy Commissioner AM Parvez Rahim said he has sent a proposal to the ministry of relief and disaster management seeking sufficient financial support for the affected families and farmers.
Forest conservation expert Modinul Ehsan said the risky areas in the hills need to be marked and people living there should be rehabilitated in safer areas. Sanctuaries for the elephants should also be made in those areas, said Ehsan, also Khulna divisional wildlife management and nature preservation official.