Eid celebrated in full gear despite rain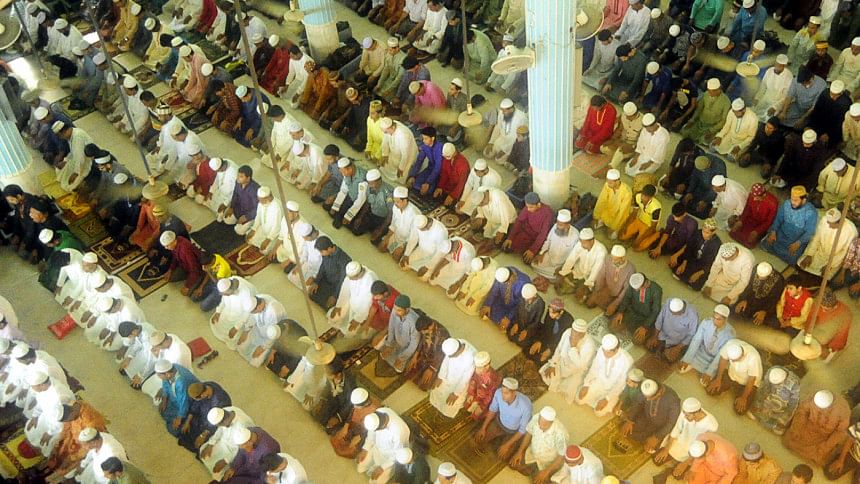 After early morning special eid prayers in mosques and other outdoor locations, Muslims across the country celebrated the Eid-ul-Fitr in full gear greeting each other saying 'Eid Mubarak'.
Back from prayers amid rains, they visited friends, relatives, neighbours and 'Murabbis' who are the eldest members of the families.
These activities will continue for three days as the entire 3-day period is a public holiday. The three-day celebrations come a month-long dawn-to-dusk fasting.
Earlier, exchanged gifts, while young women have had their palms drawn with beautiful with henna.
Before offering the eid prayers, they gave out charity known as 'Fitra'. Along with that some people who earn above the certain limit are entitled they gave give 2.5 percent of their income to the needy, which is known as 'zakat' and is obligatory. 
Meanwhile, millions of city dwellers left the capital and other major cities to celebrate the eid with their near and dear ones in their village homes.
As usual, the largest eid congregation was held at Sholakia Eidgah in Kishoreganj district at 10am with lakhs of Muslims offering prayers seeking divine blessings, peace and progress for the country.
In the capital, the main eid congregation was held at the National Eidgah near the High Court at 8:30am. President Abdul Hamid joined the eid jamaat.
Besides, five congregations were held at 7am, 8am, 9am, 10am and 11am at the Baitul Mukarram National Mosque. Eid congregations were also be held in eidgahs, mosques and open spaces across the country.
Meanwhile, the people of 40 villages in Chandpur and 30 villages in Chittagong and nine villages in Dinajpur, and some other parts of the country celebrated the eid on Friday in line with Saudi Arabia.