DMCH forms medical board for Feni madrasa student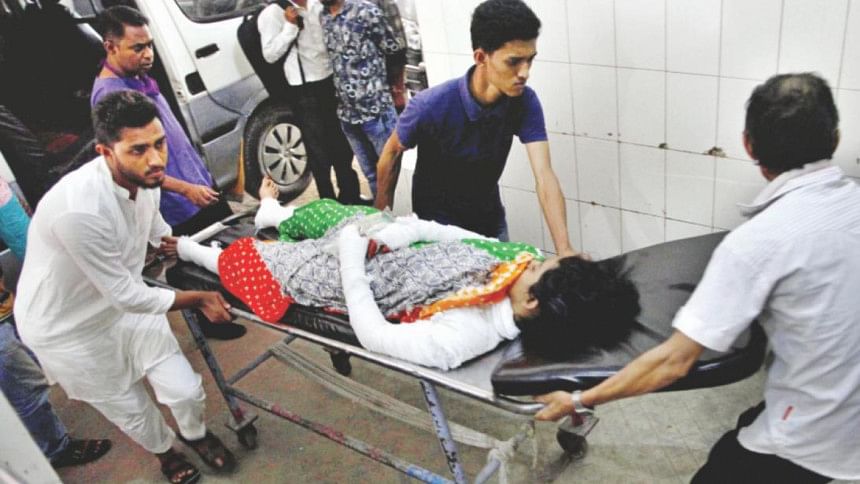 Dhaka Medical College Hospital has formed a nine-member medical board for treatment of an Alim (equivalent to HSC) examinee who was set on fire in Feni yesterday.
The medical board was formed today as the girl is in critical condition, said Dr Samanta Lal Sen, co-ordinator of Sheikh Hasina National Institute of Burn and Plastic Surgery at DMCH.
The 18-year-old was set on fire for allegedly refusing to withdraw a case filed against the principal of Sonagazi Islamia Senior Fazil Madrasa, for sexually harassing her late last month.
The girl with 75 per cent burns has been admitted to the burn unit of DMCH yesterday. She has been kept at the hospital's Intensive Care Unit (ICU).
She was attacked inside the exam centre just a few minutes before the Arabic first paper test was due to start at 10:00am.
HOW WAS SHE SET ON FIRE?
Around four students of Sonagazi Islamia Senior Fazil Madrasa took her to the rooftop of its three-storey administrative building and asked her to withdraw the case against Principal Maulana Siraj Ud Doula, Victim's family said.
As she refused to budge, one of them poured kerosene on her from a glass and set her ablaze, the victim's elder brother yesterday told The Daily Star, quoting her. The offenders fled the scene immediately.