Brutality followed meet with Siraj
Followers visited Sonagazi madrasa principal in jail, got a 'directive', says PBI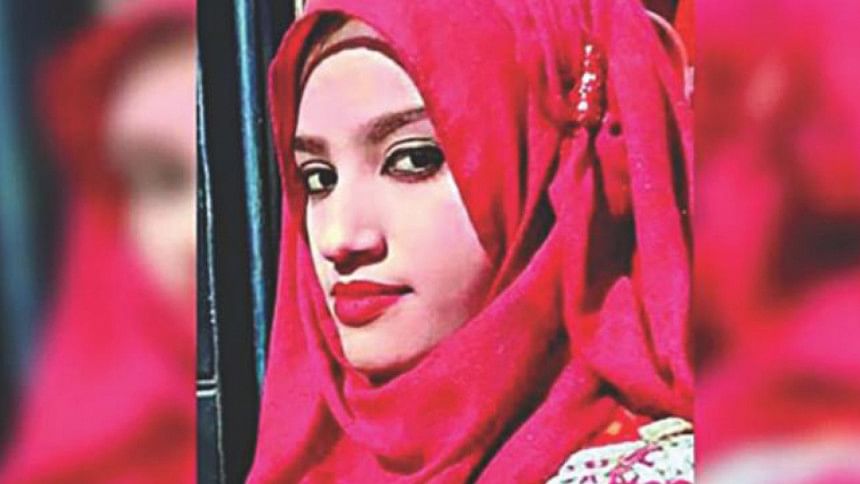 Nusrat Jahan Rafi was set on fire two days after detained Sonagazi madrasa principal Siraj Ud Doula "gave a directive" to some of his followers when they visited him in Feni district jail, investigators said yesterday.
It remains unclear exactly what the directive was but officials said two prime suspects -- Nuruddin and Shahadat Hossain Shamim -- and three other youths had planned the brutal act on April 5, just a day after meeting the principal.
So far, thirteen persons, including two female students, have been found involved in the crime, said Banaj Kumar Majumder, chief of the Police Bureau of Investigation.
Shamim was among the four who set Nusrat ablaze on the rooftop of the three-storey administrative building at Sonagazi Islamia Senior Fazil Madrasa in Feni on April 6, he added.
Investigators found that the attackers were students of the madrasa and included a female. They were all in veils.
Addressing a press briefing at its office in Dhaka, the PBI boss said the group planned to burn her to death for two reasons.
Firstly, they believed Nusrat "demeaned Alem-Ulema" as the principal was arrested in a case filed over sexual harassment of the girl. Another reason was her repeated rejection of Shamim's relationship proposal.