A different Eid in Rangamati after disaster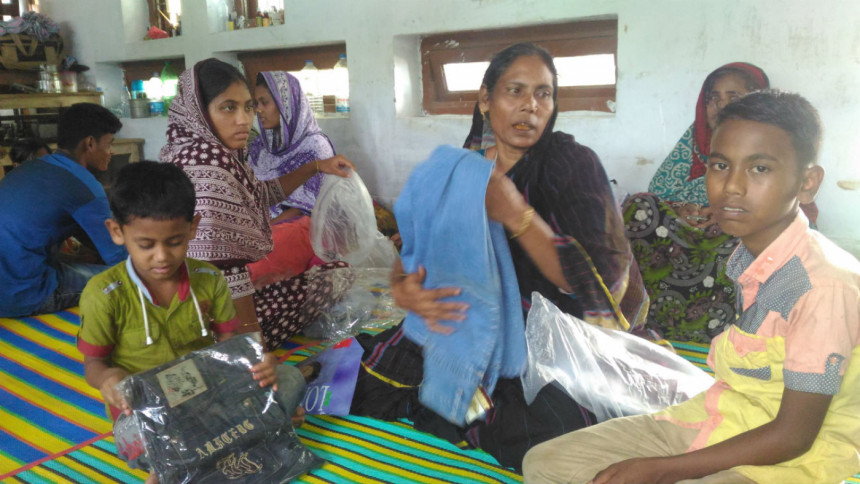 A very different Eid-ul-Fitr is prevailing through Rangamati – the area that saw one of the worst series of landslides in a decade that killed 120 people there.
All government high-ups and officials today spent the time with the victims of the landslide at different shelter homes with all the victims who have lost their near and dear ones.
Rangamati Deputy Commissioner Md Manzurul Mannan, police Superintendent Syed Tariqul Hassan and Rangamati municipality Mayor Akbar Hossain Chowdhury spent the day with the landslide victims in different shelter homes in Rangamati Sadar.
KM Ikhtiar Uddin, spokesperson for the local disaster control room, said the district officials scrapped all their usual programmes to spend the Eid with the victims.
Tk 400 worth food has been distributed among the victims at shelter homes and new clothes were distributed among them, he said.
Md Shamim, Mehedi Hasan and Md Rubel, victims who lost their houses in landslide, told The Daily Star that they were having an Eid with all the other victims who have taken shelter.
They said it was a "somewhat different Eid" than what they usually had, with all the others who had lost their near and dear ones all grouped together.
An Eid lunch together
Rangamati DC Manzurul Mannan, police Superintendent Syed Tariqul Hassan had today's Eid lunch with the landslide victims at Rangamati Government College this afternoon.
Today's menu was Biryani, roasted chicken, an egg per head, apple and mineral water per head, said KM Ikhtiar Uddin, the spokesperson for local disaster control room.
Pre-lunch, the district officials and Bangladesh Army had distributed new clothes among those at shelter homes. They bought the clothes with the savings and bonus of Eid, buying nothing for themselves.
Md Shamim, a victim, said he was feeling overwhelmed with the new clothes he got – something he never expected after the losses he sustained during the landslide a few days ago.