8 hurt in 'BCL attack' during Chhatra Jote strike
At least eight students were injured in alleged attacks by Bangladesh Chhatra League (BCL) men in Sylhet and Rajshahi universities as Pragatisheel Chhatra Jote activists are observing a nationwide strike protesting the January 23 attack by BCL men.
In Dhaka University, the activists padlocked the main gate of Kala Bhaban (arts faculty building) when around 70-80 general students joined them expressing solidarity with them around 8:00am.
Later, a section of students under the banner of 'Students against repression' organised a press conference in Modhur Canteen in Dhaka University and demanded the expulsion of those involved in the attacks on January 15 and January 23 and also the removal of DU Proctor Professor Golam Rabbani on charge of negligence of duty.
In Sylhet, 10-12 activists of a BCL faction allegedly attacked a rally brought out by Pragatisheel Chhatra Jote at the main gate of the Shahjalal University of Science and Technology (SUST) around 11:00am, our Sylhet correspondent reports quoting the university Proctor Professor Jahir Uddin.
Eight activists were injured in the attack by BCL men of the faction led by Mushfiqur Rahim Zia, students present there told the correspondent.
In Rajshahi, the Chhatra Jote activists came under attack in front of the administration building at Rajshahi University, our RU correspondent reports quoting Kingshuk Kingjal, president of the Chhatro Federation.
Around 9:30am a faction of BCL led by two former vice-presidents allegedly attacked the Pragatisheel Chhatra Jote members, Kingshuk told the correspondent.
However, the university Proctor Professor Lutfor Rahman denied claims of the attack.
In response to the attack, Pragatisheel Chhatra Jote activists brought out a protest rally on the campus around noon.
Our Jahangirnagar University correspondent reports, around 50-60 students under the banner of "Pragatisheel Chhatra Jote" took position in front of the buildings of social sciences and arts and humanities faculty around 9:00am.
They also brought out a protest procession on the JU campus around 11:30am.
Academic activities were hampered following the strike but all the scheduled examinations were held.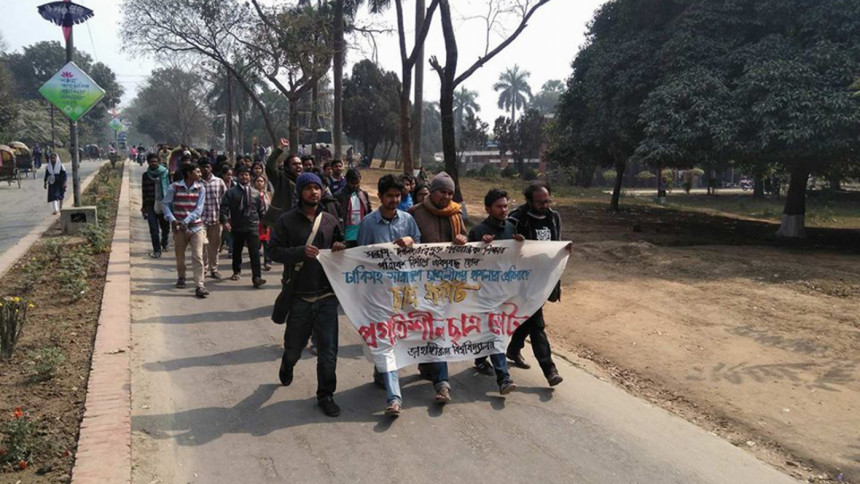 On January 23, a group of students and some activists of left-leaning student organisations besieged the VC office with their four-point demand including expulsion of BCL men for harassing some female students a few days ago.
At least 50 demonstrators and two journalists were injured when the BCL activists swooped on the gathering to "rescue" the VC, who was kept confined in front of his office by the protestors.
The following day, BCL men swooped on activists of left-leaning student organisations in two other educational institutions across the country during their programmes.
At least 15 students of Chittagong University were injured when BCL activists attacked the procession of Progressive Students' Alliance, protesting the BCL attack on DU campus. Meanwhile, BCL attack on students of Murari Chand (MC) College in Sylhet left 13 injured.