PM stresses timely completion of dev projects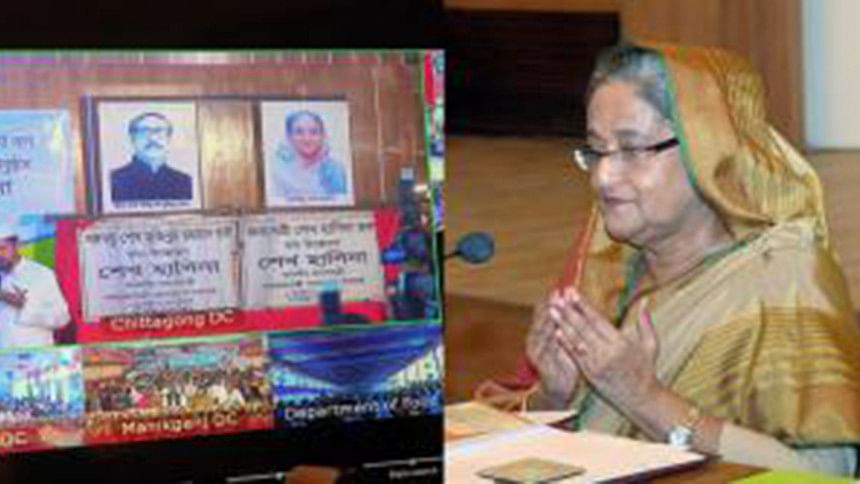 Inaugurating and laying foundation stones of 15 development projects including three power plants in seven districts, Prime Minister Sheikh Hasina today asked the authorities concerned to complete all schemes properly and timely for rapid development of the country.
"We have already executed massive uplift work across the country, while the work on many projects is underway in every area. So I would like to tell all concerned to finish all ongoing schemes properly and timely for accelerating the pace of development," she said.
The Prime Minister said this while inaugurating and laying the foundation stones of the 15 development schemes through videoconferencing from her official Ganobhaban residence here this noon.
The power plants that were inaugurated today by the Prime Minister are Ashuganj 225 Megawatt Combined Cycle Power Plant, United Ashuganj 200-MW Modular Power Plant and Ashuganj Midland 51-MW Power Plant.
With the opening of the three power plants in Ashuganj, the country touched the landmark of century of setting up new power plants during the government of Prime Minister Sheikh Hasina . Since assumption of office by the government in 2009, 73 new power plants were constructed in the last six and a half years.
Through videoconferencing today, Sheikh Hasina also inaugurated newly constructed Jananetri Sheikh Hasina Hall and Bangabandhu Sheikh Mujibur Rahman Hall at Chittagong University, newly constructed Kazir Bazar Bridge over the Surma river in Sylhet, newly constructed Nayakandi Bridge, Kitingchar and Saturia bridges on Hemayetpur-Singair-Manikganj regional highway under Manikganj district, Ballbhadra Bridge on Sarail-Lakhairegional highway, Postagola Government Modern Flour Mill and activities of Bangladesh Nirapod Food Authority.
Besides, she laid foundation stones of a railway overpass at Morail rail crossing under Brahmanbaria, upgradation of Airport Bypass intersection-Lalbag-Salutikor-Companiganj-Bholaganj road to National Highway and the upgradation of Hemayetpur-Singair-Manikganj regional highway (Manikganj Bus Stand - DC Residence road part) to four lane.
Road Transport and Bridges Minister Obaidul Quader, Railways Minister Mazibul Haque, PM's Advisor HT Imam, Dr Moshiur Rahaman and Dr Tawfiq-E-Elahi Chowdhury, State Minister for Power Nasrul Hamid Bipu, PM's Principal Secretary Md Abul Kalam Azad and secretaries concerned were present at the function.