Sinha's rejoining a far cry: AG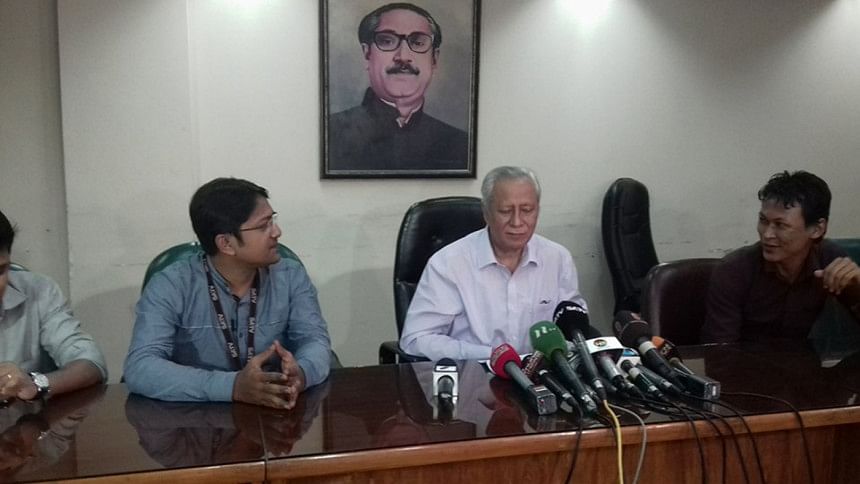 Justice Surendra Kumar Sinha's rejoining after returning home from abroad is a far cry, Attorney General Mahbubey Alam said today.
Country's judiciary will face a deadlock if other judges of the Appellate Division of the Supreme Court do not want to sit with Sinha, the AG said this evening, a day after Chief Justice Surendra Kumar Sinha flew for Australia.
"The country cannot run amid such situation and in this context, it seems to me that the rejoining of Justice Sinha is a far cry," he said while addressing a press conference at his office at the SC premises.
Justice Surendra Kumar Sinha went on a month's leave from October 3 on health grounds and left the country for Australia last night. He is scheduled to return home on November 11.
Before leaving Dhaka, Sinha said he was not sick as he left the country for Australia, contradicting the government's claim that he went on leave on health grounds earlier this month.
He briefly spoke to the reporters in front of his official residence at Kakrail and handed them a signed statement, typed in Bangla, before heading to the airport last night.
"I'm not sick. I'm not fleeing. I'll come back. I'm a little embarrassed. I'm the guardian of the judiciary. I'm leaving for a brief period in the interest of the judiciary, and so that the judiciary is not polluted," the CJ told reporters.
However, responding to a query, the attorney general said the oath of the chief justice breaks soon after allegation is proved against him.
Claiming that allegations against Justice Sinha have been brought on specific evidences, the AG said it was not being possible to bring such allegations against him if there had been no evidences.
Without clarifying the allegations, Alam said all the allegations are in the hands of the law enforcement agencies.
The government did not play any role to remove Justice Sinha rather he has been forced to take leave as his colleagues did not want to sit with him in delivering justice, Alam said.