Cabinet may decide Qamrul, Mozammel's fate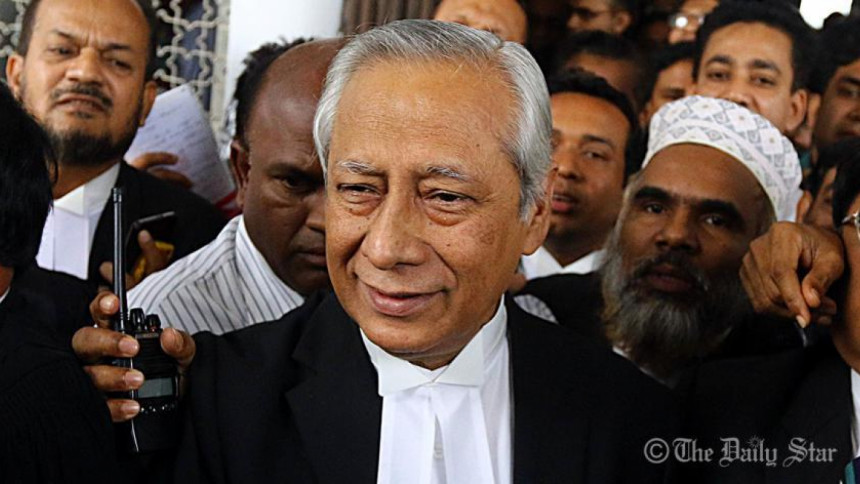 Attorney General Mahbubey Alam said the cabinet may decide whether Qamrul Islam and AKM Mozammel Huq can hold the office as ministers following today's Supreme Court judgement.

Also READ: SC fines Qamrul, Mozammel Tk 50 thousand each
The SC has convicted the two ministers and fined them Tk 50 thousand considering the gravity of their offence, Mahbubey Alam told reporters at his office after the verdict.
Without making any comment the AG said it is a question of morality.

READ also: Qamrul asked to give fresh explanation
The apex court passed the order so that nobody makes such contemptuous statements about the court in the future.
Earlier in the day, the two ministers -- Qamrul and Mozammel – were fined Tk 50 thousand by the SC for committing contempt of court by making contemptuous statements about the chief justice.

READ more: 2 ministers face contempt rule
The two ministers have to pay the money to Islamia Eye Hospital and Liver Foundation of Bangladesh within seven days.
The Appellate Division said the two ministers will have to suffer imprisonment for seven days if they fail to pay the fine.

Also READ: Qamrul offers apology to SC
An eight-member bench of the Appellate Division headed by Justice Surendra Kumar Sinha delivered the judgement after refusing the unconditional apology made by the two ministers.
Former law minister Barrister Shafique Ahmed told The Daily Star that there is no legal bar for the two ministers holding their posts as ministers following the SC verdict.
Under Article 58 of the Constitution a minister will lose his office if he or she submits his resignation letter to the prime minister for forwarding it to the president or he or she is no more a law maker.
According to article 66 (2) (D) of the Constitution, "a person shall be disqualified for election as, or for being, a member of Parliament who has been, on conviction for a criminal offence involving moral turpitude, sentenced to imprisonment for a term of not less than two years, unless a period of five years has elapsed since his release."
Shafique Ahmed said the two ministers have not convicted for moral turpitude.