Bogra cucumber growers happy with good yield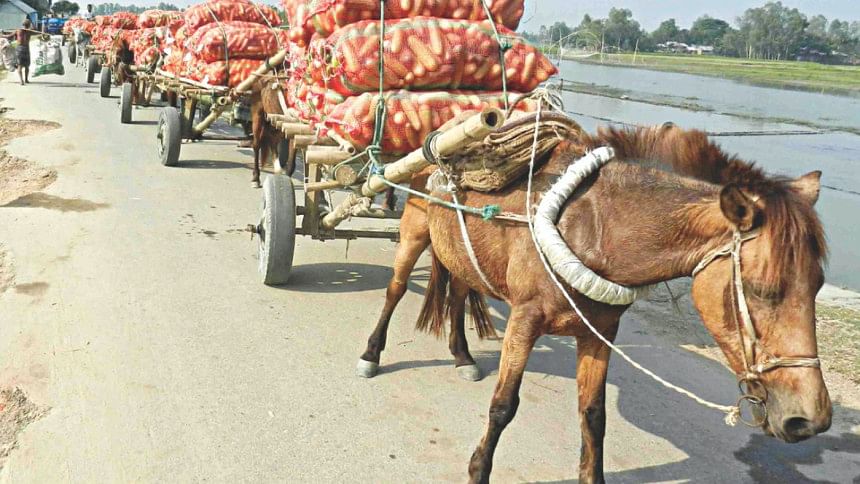 Cucumber growers in Jamuna river basin area under Sariakandi upazila of the district are recovering their losses caused by the recent floods, thanks to good yield of the vegetable and its fair prices in the local markets.
Chunu Sheikh, a grower of Kazla union in the upazila, said each maund (40kg) of cucumber is selling for Tk 900 to Tk 1000 in the local markets.
Farmer Wazed Ali, 55, of Jamthal village under the union, said he cultivated the item in four bighas expending a total of Tk 60,000 to Tk 65,000 and already earned nearly Tk 5 lakhs within 40 days of starting cultivation. 
Wazed said the recent flood damaged jute in his 15 bighas of land and fishes of three ponds, but profits he earned from selling cucumber makes him happy now. 
Farmers in the area said about 150 to 200 maunds of cucumber can be harvested by cultivating one bigha (33 decimals) of land.  
Grower Anwar Sheikh, 26, of Bera Panchberia village, said he cultivated cucumber in his 40 decimals of land for the first time this year spending Tk 30,000 and expecting to sell the item for over Tk 1.5 lakh. 
Deputy Director Abdur Rahim of Department of Agricultural Extension (DAE) in the district said growers can harvest cucumber within 15 days of budding.
Such crop can help farmers to recoup the loss they incurred during the recent floods, he added.
Mohammad Abdur Rashid, upazila sub-assistant agriculture officer, said growers usually cultivate Abadi-Green, Adari and Falan-2 variety of cucumber in the char areas. 
This year farmers in the area cultivated cucumber in 200 hectares of land and already harvested the item from around 100 hectares, he said.