BGB requests Myanmar troops to remove explosives from borders
Says BGB DG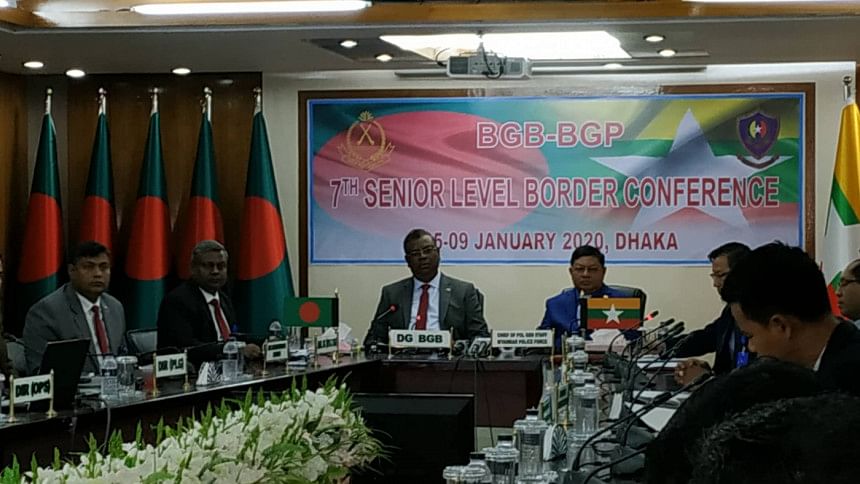 Border Guard Bangladesh (BGB) requested Myanmar Police Force to remove improvised explosive devices (IED) or mines from the bordering areas, the paramilitary force's Director General (DG) Maj Gen Md Shafeenul Islam said today.
The BGB expects that Myanmar security forces will remove the IEDs or mines planted in between zero border line and 50 yards of the bordering areas upon their request.
The IEDs or mines are planted by insurgents, not by the Myanmar troops, Police Brigadier General Myoe Than, chief of Police General Staff of MPF, said while replying to a query on the casualty of the landmine blast along Myanmar borders.
The BGB DG and the MPF chief were talking to reporters at a press conference on a five-day Senior Level Border Conference began in Dhaka on January 5.
Maj Gen Md Shafeenul also informed that BGB and Myanmar Police Force (MPF) agreed to patrol in vulnerable points of entire Border Line between Bangladesh and Myanmar where people are trafficked and drugs are smuggled.
Apart from this, the BGB and MPF during the seventh Senior Level Border Conference have agreed on the issues below:
1. To prevent illicit drugs and psychotropic substances especially Yaba trafficking along the border lines/areas and the Myanmar side will continue anti-narcotics drug measures in accordance with its national drug control policy.

2. Both sides also agreed to cooperate with each other in fighting transnational crimes, arms smuggling, human trafficking. goods smuggling and terrorism.

3. Both sides agreed to prevent any kind of illegal border crossing/intrusion and border violation.

4. Both sides agreed, not to violate the sanctity of 150 feet (50 meter) on each side of the boundary line by any means without prior approval of each other.

5. Both sides agreed to inform incident of firing/shooting (if any) to each other as soon as possible.

6. Return the nationals of both the countries in case of Natural Calamity/Inadvertent Crossing of Border Line/Completion of Jail Terms in Bangladesh or Myanmar through the bilaterally agreed procedures following the practice of respective country.

7. Both sides agreed to share real time information to bring an amicable solution to border related problems (as it occurs).

8. Both sides will carry out Coordinated/Joint Patrol along entire Border Line between Bangladesh and Myanmar to strengthen the security and law enforcement.

9. Both sides agreed to implement various confidence building measures including friendly games and sports and cultural team exchange between BGB and MPF.
The both sides decided to hold the next eighth Senior Level Border Conference between BGB and MPF in Myanmar in the month of May/June 2020 or basing on convenience and mutually agreed upon schedule.