Mash, Shakib not thinking to participate in polls now: Quader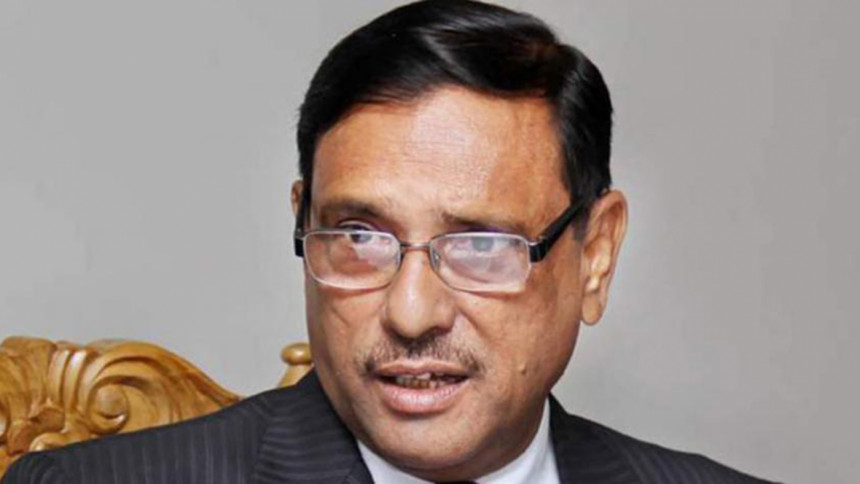 Awami League General Secretary Obaidul Quader today said that time has yet to get momentum for Bangladesh's cricket sensations Mashrafe Mortaza and Shakib Al Hasan to participate in the politics.
"There is a surprise in nominating candidates for the next general election indeed but we don't want to make any comment over Mashrafe and Shakib in this regard before the next world cup," Quader also road transport and bridges minister said.
Planning Minister AHM Mustafa Kamal on Tuesday at a programme, hinted that the Bangladeshi seasoned cricketers Mashrafe Mortaza and Shakib Al Hasan may take part in the upcoming general elections.
Rejecting the possibility of their participation in the national polls, Quader said, "I have talked to Shakib and I was told that they don't want to think about participating in politics and election right now."
Quader cleared the media about the fueling speculations of Mashrafe and Shakib's participation in the upcoming general election in a press conference at the party President Sheikh Hasina's Dhanmondi political office this afternoon.
About the surprise, Quader said dignitaries from different quarters including cultural, sport and media platforms have already expressed their interests to vie the next general election with the tickets of Awami League.
About the party's nomination to the sports personalities, the Awami League leader said, "The matter is now at the discussion-level and the list of the interested sportsmen is now in the hand of the prime minister."
"Who wants to participate in the election and from which constituency --are at discussion-level. But they have not fixed their decision yet ahead of the world cup," Quader said.
About the criteria of getting the party's nod, Quader said the interested candidate will have to be in a win-win situation. "Otherwise, we will not nominate them."
When asked about Planning Minister AHM Mustafa Kamal's optimism, Quader said he told the media that Mashrafe and Shakib will contest the elections from Awami League and he would cast his vote for them.
When asked after which world cup, Mashrafe and Shakib would participate in the election; Quader left the press conference without clearing the media in this regard.