Road transport act to be placed before cabinet next week: Quader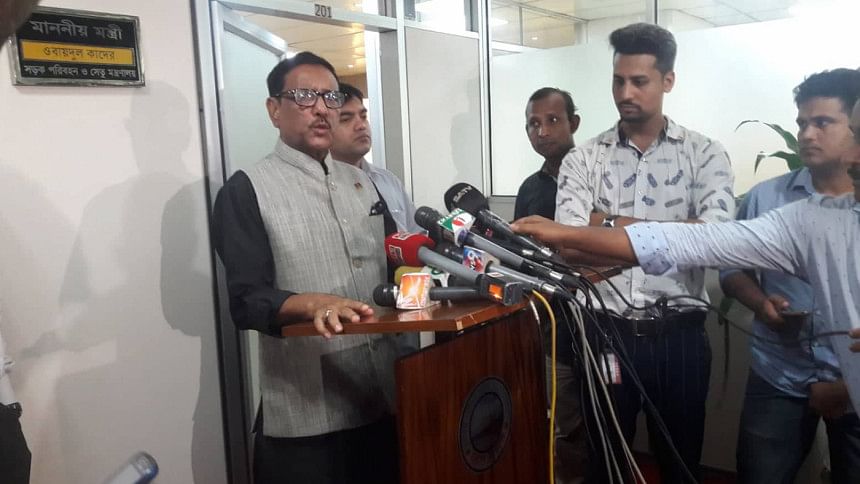 Road Transport and Bridges Minister Obaidul Quader today said the long-awaited road transport act will be placed before the next week's cabinet meeting and the draft act is expected to be passed in the next parliamentary session.
Once the law is enacted, the ministry will be able to take strict measures to bring discipline in the transport sector and to curb road accidents and traffic congestion, Quader, also the general secretary of ruling Awami League, said at a hurriedly called press briefing at Setu Bhaban in the capital's Mohakhali.
Upon approval from the cabinet, the draft act was sent to the law ministry, which has already completed the vetting of the draft law, he said adding that it is now being sent to the ministry of road and transport.
The prime minister yesterday called the law minister to place the draft act before the cabinet meeting to be held on Monday, Quader said.
The minister asked the students, who are protesting Sunday's road accident on Airport Road that left two students dead, to call off their programmes and return to their classes as the prime minister has already instructed to take actions against underage drivers and those who are driving without license.
Besides, the shipping minister has already apologised for his comment, Quader mentioned.
When asked whether the government is embarrassed with Shahjahan Khan, Quader said the prime minister has already made comment on the minister; therefore "We cannot make any further comments on the issue."
Road Transport Act
The road transport act 2017 requires education of up to at least eighth grade for getting a driving licence and up to fifth grade to work as a helper. Penalties ranging from one to three months' jail and Tk 5,000 – Tk 35,000 fine for being intoxicated or using mobile phone while driving and driving on the wrong side of the road have also been imposed. The draft law includes harsher punishments for many other driving offences.