'Toy guns recovered from Fatullah similar to those seen in IS video'
CTTC chief Monirul says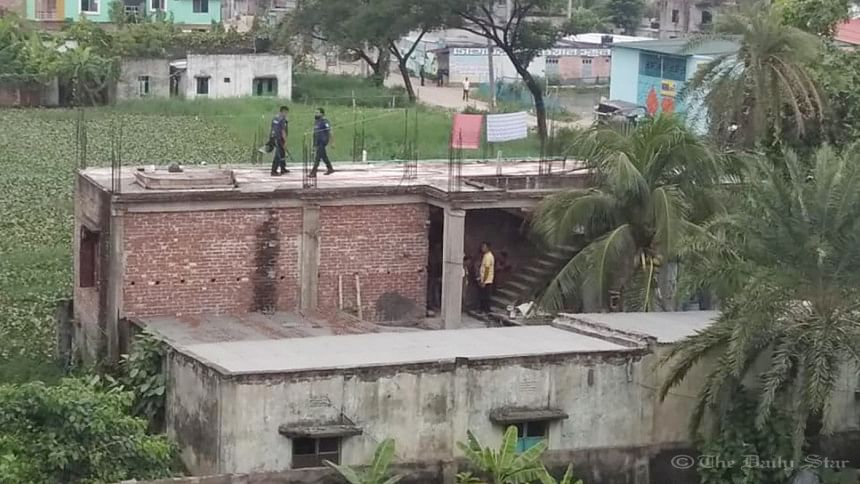 -3 held in drive at Neo JMB den
-They had link with recent attacks on cops
-IED, other explosives recovered   
The toy guns, recovered from a house during the raid in Fatullah of Narayanganj today, are similar to those seen in a video released by the Islamic State recently.
Monirul Islam, chief of Counter Terrorism and Transnational Crime (CTTC) unit of Dhaka Metropolitan Police (DMP), said this while briefing newsmen on the spot after concluding the raid this afternoon.
"Recently IS released a video where we have seen some toy guns in the hands of some youth. The toy guns recovered from the Fatullah house are similar to that of the guns," he said adding that IS released the video some months ago.
Four improvised explosive devices (IEDs) and a large number of explosives were recovered with the toy guns during the drive at the house in Takkarmath area, Shaiful Islam, deputy commissioner of the CTTC, told The Daily Star.
The lawmen also detained Fariduddin Rumi, 27, an engineering department teacher of Ahsanullah University of Science and Technology in Dhaka and his wife Jannatul Foara Anu, 26, a banker from the house.
But Rumi's younger brother Rafik also an engineering department teacher of Khulna University of Engineering and Technology (Kuet) managed to flee the spot, Shaiful said.
Law enforcers conducted the raid at the house in Takkarmath area after gleaning information from one Mizan, 26, who was detained from Jatrabari area yesterday evening, he added.
Monirul, while talking to the journalists, further said there is an organisational relation between Mizan and Rumi but the law enforcer could not learn that whether they are relative.
About their activities, Monirul said the detainees have used the house as a cell of the "Neo JMB" and they are well equipped than other organisation.
They were involved in designing and implementing attacks on police, the CTTC chief said adding that they have links with five recent attacks on police and an attempt to attack in Dhaka.
The raid ended around 2:30 pm after a bomb disposal unit diffused the explosives.