Two killed in 'gunfight'between drug gangs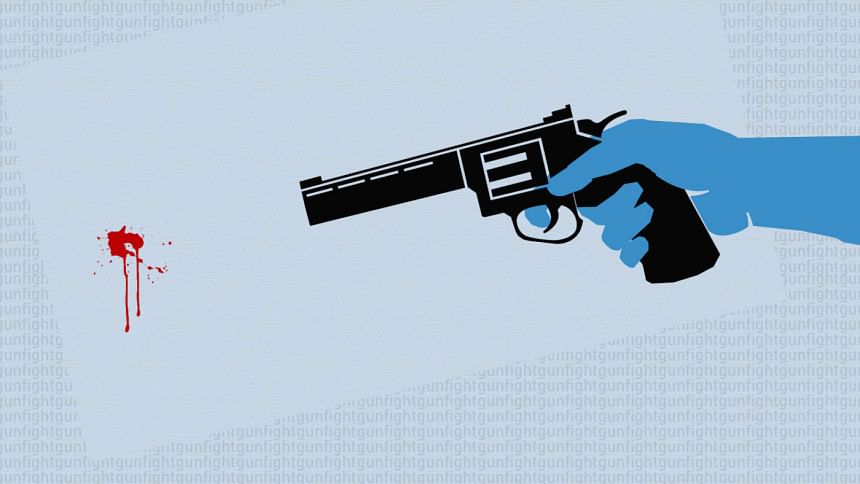 Two people were killed in a "gunfight" between two groups of drug traders at Hoaikkong in Teknaf upazila of Cox's Bazar yesterday, police said.
Police in India have meanwhile recovered a bullet-hit body of a Bangladeshi national, allegedly involved in drug smuggling, within its border opposite the Chuadanga frontier.
Cox's Bazar police said the deceased -- Delwar Hossain Rubel, 20, son of Farid Alam of Mina Bazar area in Hoaikkong union, and Md Rafique, 55, son of Safar Miah of Jhimongkhali area -- were drug traders. They were accused in several arms and drugs related cases, they added.
Two groups of drug traders exchanged gunshots at Nayapara Battali of Hoaikkong around 3:00am, said ABMS Doha, inspector (investigation) of Teknaf model police.
On information, a team of law enforcers rushed to the spot. Sensing the presence of police, the drug traders fled the scene, he added.
The police recovered the bullet-hit bodies of Rubel and Rafique from there, the inspector said.
The bodies were sent to Cox's Bazar General Hospital for autopsy and the police were investigating the incident. Two LGs and six bullets were also recovered from the spot, the law enforcers said.
Meantime, the Indian police recovered the body of 40-year-old Omedul Islam from Krishnaganj border area under Nadia district of West Bengal yesterday morning.
Omedul, son of Abdul Malek of Nastipur in Damurhuda upazila in Chuadanga, used to smuggle drugs and sell it to local buyers, said Sukumar Biswas, OC of Damurhuda police station.
He was accused in four drugs related cases filed with the same police station, the OC added.
His rivals might have killed him, he said, adding, they were investigating the matter.
Nur Mohammad, Omedul's cousin, said he remained missing since Sunday evening after going out of home on receiving a phone call.
Lt Col Imam Hasan, director of Bangladesh Border Guard-6 in Chuadanga who visited the spot, confirmed the matter.
He said the BGB had sent a letter to its counterpart BSF asking for a flag meeting for returning the body. The meeting was scheduled to be held last evening, he informed.