Domestic flights resume on limited routes, lack of passengers observed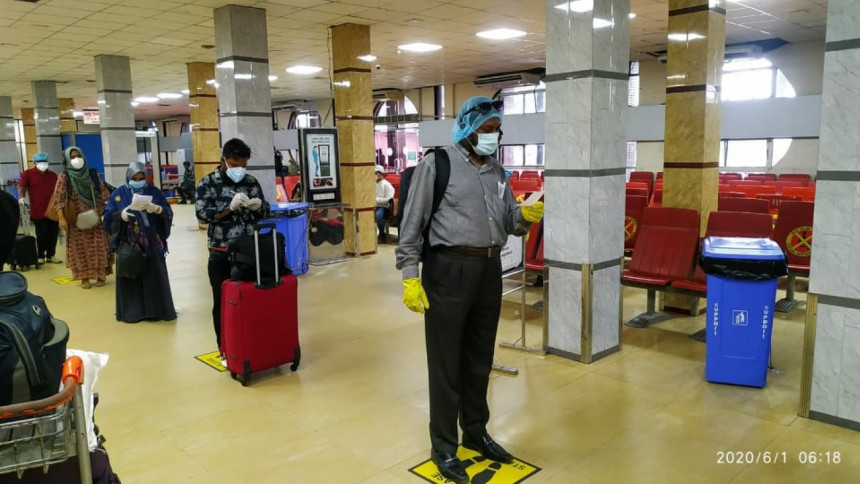 Local airlines saw very few passengers on the first day of resumption of regular passenger flight operation on three domestic routes this morning after more than two months of flight suspension, sources at different airlines said.
Number of passengers was so poor that the national flag carrier-, Biman Bangladesh Airlines, was forced to cancel its two flights on the Dhaka-Sylhet and Dhaka-Chattogram routes, Tahera Khandaker, deputy general manager (public relations) of Biman, told The Daily Star.
The first post-shutdown flight of the national airliner left Hazrat Shahjalal International Airport (HSIA) for Saidpur at 7:45am with only 4 passengers on board, she said.
The return flight had, however, 20 passengers, Tahera added.
Officials of HSIA said they have taken all preparations at the airport and are also carrying out monitoring activities so that passengers and others concerned follow the health guidelines.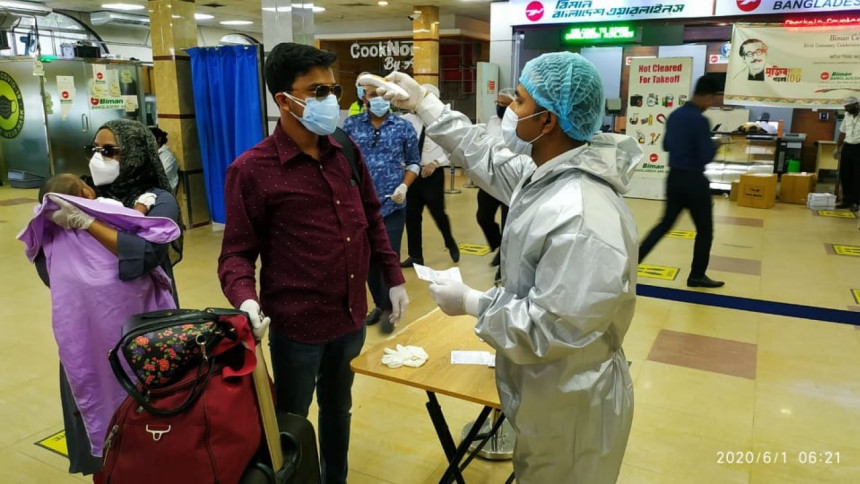 For the two other private airlines -- US-Bangla Airlines and Novoair -- the number of outgoing and incoming passengers were slightly higher compared to Biman.
The first resumed flight of private air operator US-Bangla Airlines left Dhaka Airport for Chattogram at 7:00pm with 28 passengers on board, Kamrul Islam, general manager (public relations) of US-Bangla Airlines, told The Daily Star.
Another US-Bangla flight left Dhaka for Saidpur at 8:30am with 51 passengers on board. The return flight had 54 passengers, said Kamrul Islam.
Novoair operated four flights as of 12:42pm -- from Dhaka to Saidpur with 40 passengers, two Chattogram flights with 38 and 30 passengers and Sylhet with 31 passengers, sources at the airport said.
The three airlines are scheduled to operate 24 daily roundtrip flights on three domestic routes to and from the capital, after more than a two-month-long suspension to contain the spread of the Covid-19 pandemic.
Of the 24 daily flights, 11 will be operated on Dhaka-Chattogram-Dhaka, nine on Dhaka-Saidpur-Dhaka, and four on Dhaka-Sylhet-Dhaka routes.
Biman and Novoair each will operate seven flights daily, while US-Bangla Airlines will conduct 10 daily flights on the three routes, sources in the airlines said.
"We will operate morning and evening flights to Chattogram and Sylhet and three flights to Saidpur daily from today using our Dash 8Q-400 aircraft," Tahera Khandoker said.
US-Bangla Airlines will operate six daily flights to Chattogram, three to Saidpur and one to Sylhet.
Novoair said they would operate three flights each to Chattogram and Saidpur, and one flight to Sylhet daily.
The airlines officials said they have already taken all preparations to resume domestic flight operations following the Civil Aviation Authority of Bangladesh's (CAAB) prescribed health guidelines, including disinfecting the aircraft every time before boarding passengers.
On Thursday, the government decided to resume domestic flight operations on a limited scale -- initially on Dhaka-Chattogram, Dhaka-Sylhet and Dhaka-Saidpur routes from today -- while the ongoing international flight suspension will be enforced till June 15.
CAAB Chairman Air Vice Marshal M Mafidur Rahman said all airlines must follow the health guidelines -- including the social distancing instructions issued by his office -- to operate the domestic flights.
According to CAAB the guideline, all airlines have to keep at least 30 percent seats vacant on each flight to ensure social distancing by keeping a minimum gap of a seat between two passengers if they are not from the same family.
About the seat planning, it further instructed that the front or the last row of seats on each flight must remain vacant for carrying any passenger who is suspected of carrying the coronavirus.
Crew members will avoid close contact with passengers and provide only necessary in-flight services to passengers -- no food or drinks will be served in flights with an airtime of less than one and half hours.