Building awareness against extremism stressed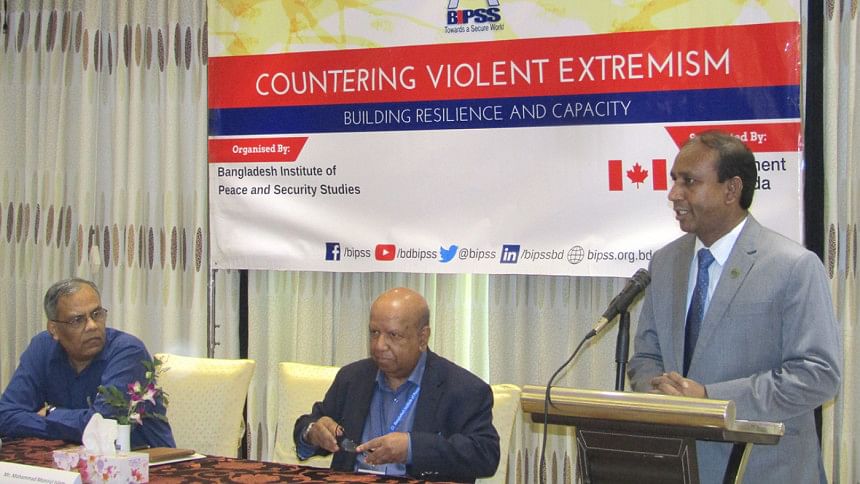 Speakers today stressed the need for building public awareness against extremism in the country through the participation of different stakeholders including religious leaders, teachers and NGO activists.
They came up with the observation at a workshop on 'Countering Violent Extremism– Building Resilience and Capacity' organised by Bangladesh Institute of Peace and Security Studies (BIPSS) under the auspices of its specialised centre Bangladesh Centre for Terrorism Research (BCTR).
Apart from some local and regional experts, officials of different law-enforcing and intelligence agencies, journalists reporting on the extremism participated in the workshop and discussed the topic.
Speaking on the final day of the three-day workshop, Mohammad Monirul Islam, Chief of Counter-Terrorism and Transnational Crime (CTTC), Dhaka Metropolitan Police said, "Youths are radicalised slowly for various reasons and one-day they suddenly leave their homes. Family members, especially the mothers can see the changes taking place to their children but not the reasons for changes."
In this regard, families and teachers can play a significant role, he said.
Kamal Ahmed, consulting editor of Prothom Alo, spoke on the role of media, especially while covering a terror attack. "Journalists should be careful while disseminating information about an attack or operation against militants," he said.
A book titled "Local drivers and Dynamics of Youth Radicalisation in Bangladesh" was released at the end of the event.