'Drug peddler' killed in Narail 'gunfight'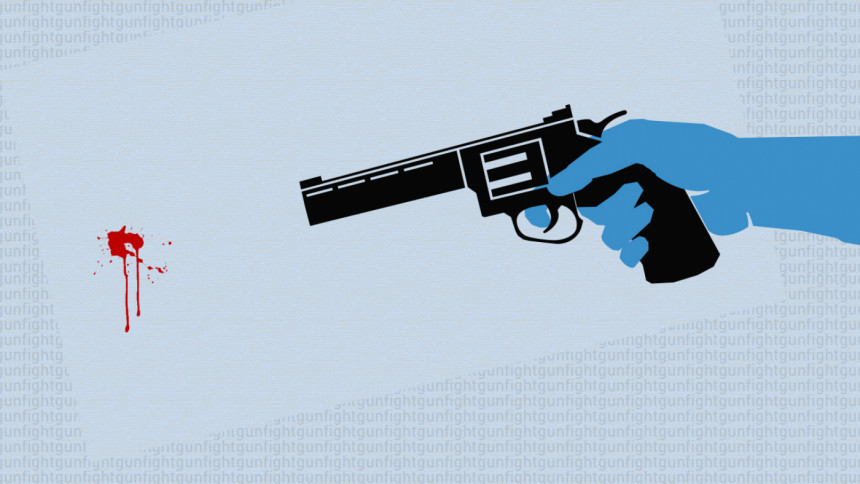 An alleged drug peddler was killed in a "gunfight" with law enforcers in Narail Sadar upazila early today.
The deceased is Golam Mostafa, 48, son of Aziz Moolah of Raghunathpur village under the district town, our Jhenidah correspondent reports quoting police.
With this incident, at least 165 suspected drug peddlers have been killed since the anti-narcotics drive began on May 4. Most of the dead were killed in "shootouts" involving police and Rapid Action Battalion.
Tipped off that a gang of drug traders were staying at the suburb of Laskarpur-Chandmari around 3:30am, a joint team of Sadar Police Station and Detective Branch (DB) of police reached the spot, said Anwar Hossain, officer-in-charge of the local police station.
Sensing presence of the law enforcers, the drug traders opened fire on the lawmen, forcing them to fire back, triggering the "gunfight".
After the alleged gunfight, police recovered bullet-hit Mostafa from the spot. He was rushed to Sadar Hospital where doctors declared him dead.
Police recovered a pipe gun, two bullets and some drugs from the spot.
Four policemen – Sub-inspectors of DB Abdur Rahman and Mostafa Jamal and Sub-inspector of local police station Minto Hossain and constable Nahid Hossain -- were also injured in the "gun battle".
Meanwhile, a suspected drug peddler, Abdul Malek, 48, sustained injuries in a reported gunfight with detectives on Joypur-Yusufpur road in Charghat upazila of Rajshahi around 2:30am.
Malek was admitted to Rajshahi Medical College Hospital with bullet injuries in his left leg, our Rajshahi correspondent reports quoting Inspector Ataur Rahman, officer-in-charge of Detective Branch of Rajshahi district police.