Three killed in 'gunfights'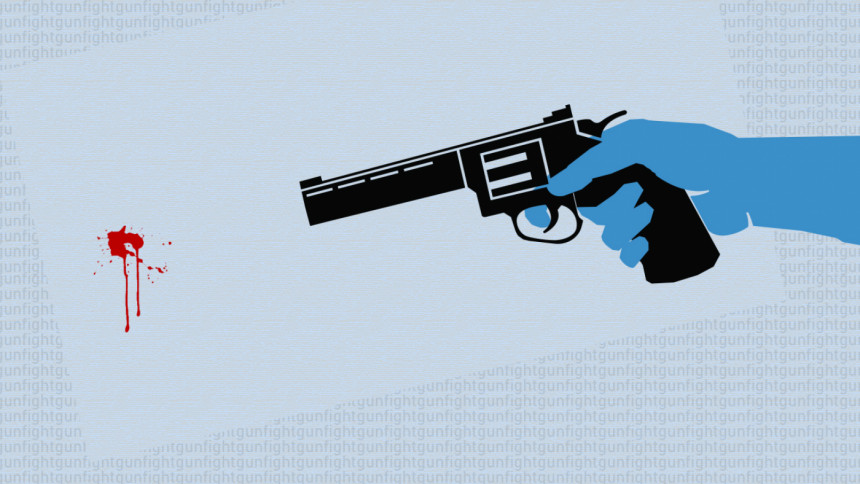 Three people including a drug trader were killed in "gunfights" in Rajshahi and Narayanganj early yesterday.
The alleged drug peddler killed in a "shootout" between Rapid Action Battalion (Rab) and drug peddlers in Rajshahi's Mohonpur upazila was identified as Md Dulal Mia, 45, son of Ibrahim of Horihorpur village.
He was accused in more than three cases related to drug peddling, Abul Kashem, officer-in-charge of Mohonpur police, said.
Dulal was well-known as a wholesaler of different kinds of drugs and was absconding since the drive against drugs began, the OC added.
The Rab-5 in a press release said the "shootout" took place at Dhuroil intersection in the upazila around 1:00am when around six suspected people opened fire on the elite force chasing them.
The Rab returned fire and after a shootout of five minutes found Dulal injured. He was declared dead at Mohonpur Health Complex, the release said, adding, different goods including a foreign pistol, a magazine with one bullet and 506 pieces of yaba tablets were seized from the scene.
With this, at least 225 suspected drug traders or peddlers were killed since the nationwide anti-narcotics drive began on May 4. Most of them were killed in so-called shootouts involving police and Rab.
In Narayanganj, an alleged robber was killed in a gunfight with police at Bandar upazila early yesterday.
Police claim Mohammad Ibrahim, 42, son of Abdul Barek of Rupganj upazila, was a member of an organised robbers' gang. He was accused in several cases filed with different police stations in Narayanganj and other districts.
Bandar police OC Shaheen Mondal said 15-16 robbers were taking preparations to commit robbery in Sonachara Ramnagar area around 3:30am. On information, the police raided the area and came under fire. The police also retaliated. At one stage, the robbers fled leaving behind bullet-hit Ibrahim.
He was declared dead at Bandar Upazila Health Complex. His body was sent to Narayanganj General Hospital for an autopsy.
In another incident, police recovered the body of Delwar Hossain alias Raja, 28, son of Ful Miah of the capital's Gandaria area, from Rupganj in the district yesterday. The police claim he was also a member of a robbers' gang and was accused in several robbery cases.
OC Md Moniruzzaman of Rupganj police said the robbers were engaged in a gunfight over sharing of booty around 3:30am.
On information, the police rushed to the spot and recovered the bullet-hit body of Delwar. The law enforcers also recovered one shooter gun and a bullet from the spot.