Advanced tech brings in farming revolution
Dear readers, a few days back I went to Faogan village in Gazipur's Sripur. An industrialist, Sakhawat Hossain, bought lands here many years ago to use for farming. Later, he took the farming to an advanced level and started modern agricultural practice at his farm. For the past couple of years, I've been broadcasting on TV, the high-tech farming happening round the world. I have travelled frequently to Europe, USA, Africa and Asia to broadcast these modern technology examples. These include farming inside a controlled temperature greenhouse without doing it on vast lands and using the world's best and effective farming methods in the age of vertical expansion.
Soilless agriculture and drip water irrigation thus became popular where great entrepreneurs like Sakhawat Hossain came up with challenging ideas and also came along well-educated post-graduate farmers at his greenhouse in Gazipur.
During many years of showcasing hydroponic agriculture, mineral and nutrient solutions, I have always sought investment from the farsighted entrepreneurs so that our farming can keep pace with the most modern and unique farming technologies, practiced around the world. Sakhawat Hossain has followed these intensely and travelled to different parts of the world to bring in the latest farming practices to Bangladesh and employed many people. To establish his ultramodern technology based greenhouses, he already invested 2,50,000 USD. 
On one and a half bighas of land Sakhawat built two greenhouses, full of organic and healthy crops. He is cultivating watermelon, tomato, cherry, cucumber etc. I strongly believe that in the next two to four years, the scenario of Bangladesh's agriculture will go through drastic changes. It will be astounding. Foreign or joint investment will also take place. Food security and safe food are given great importance throughout the world. Here, it is very hard for a general farmer to invest. Because, farming is being commercialised worldwide at a rapid pace. And, Bangladesh cannot trail behind in this process. During past few years, I have observed that investment in farming sector was decreasing, since the poor farmers don't have the capacity for investment. At this critical juncture, when the inception of hi-tech farming came along, businessmen started coming forward with investments, because the key to business is to make profit against the investment.      
That's why, big entrepreneurs like Sakhawat came forward with a foresight in his investment.
Paramount Agro Farm has two large greenhouses here, each being 22 thousand square feet. The whole place is totally covered. Seasons don't matter anymore in Bangladesh. Cultivation goes on throughout the year in every greenhouse, for each crop inside. Crops are growing without the touch of soil. Something I have shown you on my TV shows filming examples from many countries of Middle East, Europe, USA and Asia. That is exactly what is being implemented right here. A year back, the construction of the greenhouses started. Already they are harvesting the crops and marketing is in full swing. The lemons are so lush and fresh and they have the same size and colour. They also ensure exact amount of nutrition for each crop at the times when they require it. Nutrient solution is put into the central water system, it comes through the water pipes set inside the greenhouses. Then it starts dripping from the nozzle to the seedling. Thus, the seedling gets nutrition. If the amount of water becomes excessive, then it will go out from below through an outer pipe to the reserve tank. There is no wastage of water, not a drop.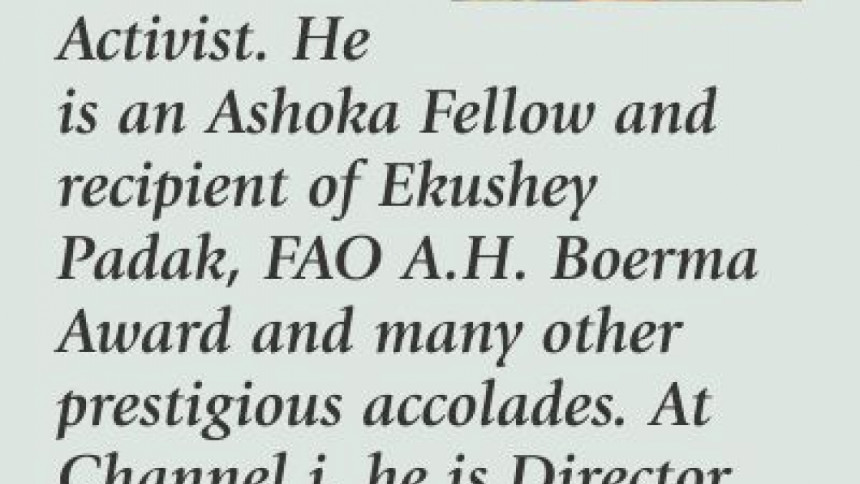 Planned agriculture is another feature of the greenhouses -- things like, how you want it, what the size should be, what the quantity and quality would be. For example, here, if you want four fruits in a tree, you will get four; if you want five, then you will get five. Most importantly, there is full guarantee that the production will run as you want. But to fulfill that you need to provide the necessary input accordingly. In brief, everything is done based on precise calculation and demand of quality and quantity.
The tray/bed is 133 feet in length and 10 inches in width. On the tray, there are 148 muskmelon plants. So, basically, there are 148 plants planted on 110 square feet. Each tree grows five fruits. Thus, 740 fruits will be produced in a season. Moreover, you will get harvests from this place four times in a year, every three months. There will be 2960 fruits from four harvests in a year. This is what I have shown earlier at Netherlands' consultancy farm, GreenQ. They are following the same exact method. 
I also noticed colour traps inside the greenhouse. They are actually sex pheromone colour traps. There were also blue, yellow coloured traps for insects. This colour trap technology was also broadcast on Hridoye Mati O Manush, where I featured Russell IPM, located in Chester, England. 
This is very inspiring. The whole farming system runs here automatically. They are growing delicious foreign fruits, which also has demand in Bangladesh. There are different varieties of muskmelons here. They are doing one that comes from The Netherlands.
They also do the fusion between modern and old technology. They do hand pollination (wearing safety jackets and gloves).
Sakhawat Hossain shared his story behind this initiative.
"In 2008, my mother became a dialysis patient. Doctors said she must eat organic food, not toxic at all. Then I started working on how to grow non-toxic food.
Initially, he learned the works of this greenhouse agriculture by himself. He travelled to many countries for learning and experience. Then he trained workers to turn them into skilled ones.
"I went to countries such as Thailand, Japan to see how hydroponic cultivation takes place. I also went to Malaysia. There is an area called Cameron Highland. Many agricultural works happen there. Many Bangladeshis work on agricultural farms there. I observed and learned. Then, I started my own." 
"I have been watching your show for a long time, since initiation of BTV's Mati O Manush. You also featured the latest greenhouses in Hridoye Mati O Manush from around the world, which really caught my attention to take this big challenge of doing it in my own country."
He asks for the government's sincere help to make fertilizer and other materials easier to import. 
I have been showcasing the modern evolution of agriculture for the last fifteen years. If you consider BTV's Mati O Manush, then I have been showing you this gradual change for more than three decades. I have seen the evolution and future of agriculture, its multifaceted and diverse research and practices from up close. Bangladesh, where farming is the central force of our development and economy, needs more and more large investors in modern technology based agriculture. There is enough possibility of business here. The government has to ensure that right now. Sakhawat Hossain's passion is farming and it needs to move into others who have the capacity to make a real change. 
Adding a very significant issue at the very end of this article, I would say, farming will advance to the path of mechanization every single day. Bangladesh will be introduced to the modern farming system and due to the contribution of large greenhouse spaces, production will also increase in future. The question remains, these greenhouses spaces or lands are bought from farmers who would sell it at some price of satisfaction. Perhaps, that temporary money will give him a good time for a few months or years. But when his money will be used up and reality will stand in front of that land-lost farmer, he will turn into a labourer of the greenhouse, which was built over his own land. I have seen farmers losing their land rights in many ways in Tongi, Gazipur and Sreepur. However, we as a nation don't want to see this happening. The government should take proper measures so that a farmer can give lease of his lands, and the money that he'll earn from the leasing as per size and value of the land, shouldn't be temporary. He has to be a partner in the greenhouse production initiative and must have a share in it. Through this farmer's life will be secured and also the entrepreneurs can expand their farming business. Eventually, we will see the holistic development in modern farming system of Bangladesh and effective farmer support, if the government takes note of this proposal.