Moosa to disclose Swiss Bank details: ACC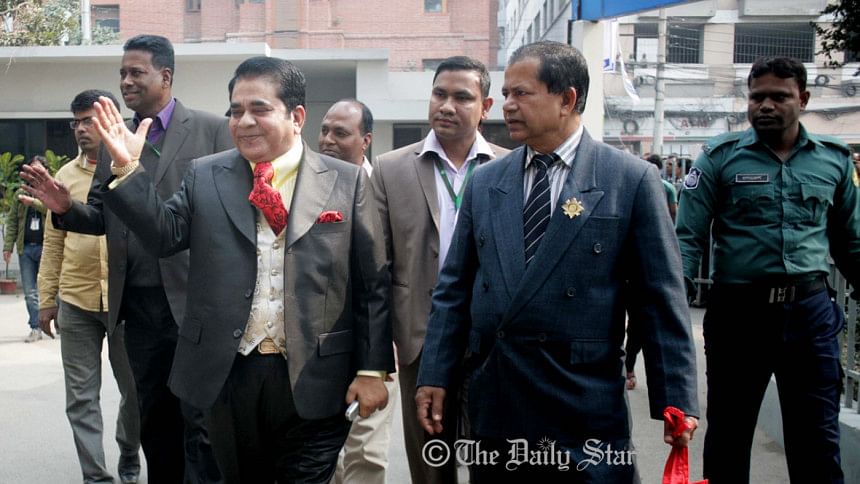 Controversial business tycoon and DATCO Group chairman Moosa Bin Shamsher today agreed to provide detailed information of his bank account with the Swiss Bank to the Anti Corruption Commission (ACC) within a few days, an official said.
"During today's interrogation, he (Moosa) agreed to provide all information about his Swiss Bank account. He will provide the information within a few days," ACC commissioner M Shahabuddin told UNB.
Shahabuddin said if Moosa provides false information or does not help the ACC conduct the investigation into his wealth the anti-graft watchdog would take legal action against him.
For now, the commissioner said, they have no plans to question him.
Earlier on Thursday, an ACC team, led by its director and inquiry officer Mir Zainul Abedin Shebly, started questioning Moosa at 11 am and continued until 1 pm at the ACC headquarters in the capital for allegedly amassing wealth in an unexplained way.
Talking to reporters in front of the ACC office after his questioning, the DATCO Group chairman hoped that he would get back his money seized by the Swiss Bank.
"Case proceedings over my money frozen in Swiss Bank are underway in Switzerland…I hope I will get my money back," he said.
About his role during the 1971 Liberation War, Moosa claimed that he was not a pro-Pakistani man, saying that he had stayed at Bangabandhu's house till March 25, 1971 and later he went to Faridpur.
Moosa also claimed that he was detained by Pakistani force on April 21, 1971 and got released on December 9, 1971.
On January 13, the ACC had sent a letter to Moosa asking him to face a team of investigators to explain his position about his bank account, said ACC Public Relations Officer Pranab Kumar Bhattacharya.
Moosa was scheduled to be questioned on January 13 but he sought time, saying that he had been suffering from death phobia, high blood pressure and diabetes.
A DATCO Group representative had submitted an application along with a medical certificate to the Commission on behalf of Moosa.
Responding to an ACC directive, Moosa earlier submitted his asset accounts statement to the Commission on June 7, 2015, mentioning his wealth worth US$ 12 billion.
On December 14, 2014, the national anti-graft body also interrogated Moosa and he claimed that a huge amount of his money remains frozen in Swiss bank.
Moosa featured in cover stories of The Sunday Telegraph Magazine (London) and many other business magazines, including Business Asia, revealing that he has accumulated wealth worth about US$ 7 billion.
Considering the reports published in international media about his lifestyle, income and income sources, the ACC on November 3, 2014, decided to launch a probe against him who is believed to have made his fortune selling arms during the Iran-Iraq war.
Moosa, a pioneer of manpower export from Bangladesh, has drawn flak for purportedly being a prominent name in the international arms industry during the 1970s and 1980s.
It is alleged that Moosa has a Swiss bank account with US$ 7 billion frozen in it because of 'irregular' transactions.