'87% public transports violate traffic rules in Dhaka'
1, 841 killed in road crashes till April 20 of this year: Survey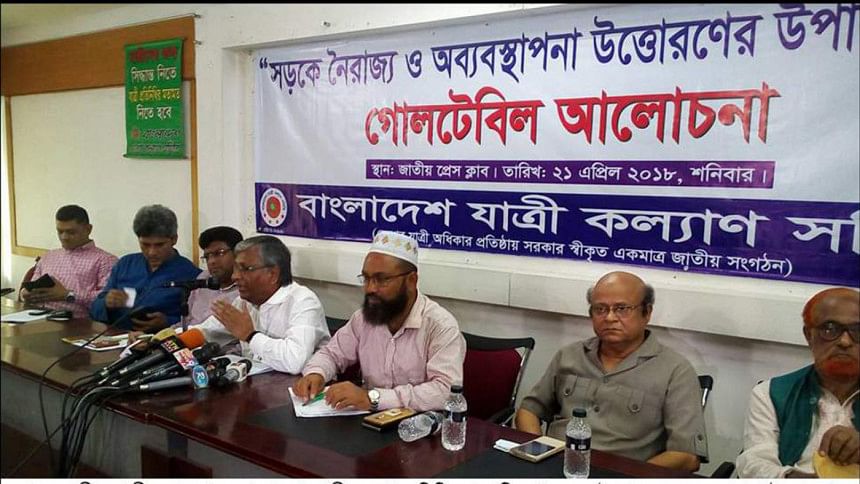 Eighty-seven percent public transports including buses and minibuses ply on the roads in Dhaka violating traffic rules, according to a survey of a passenger platform.
Bangladesh Jatri Kalyan Samity revealed the information at a roundtable at Jatiya Press Club in the capital today.
Mozammel Haque Chowdhury, secretary general of the platform, said at least 1, 841 people were killed and 5,477 injured in 1,779 road accidents across the country till April 20 of this year.
Of them, 288 became physically disabled, he added.
"These are not accidents; we want to call these planned murders. We are forced to use road in anarchic situation," he said in his written speech.
The association organised the roundtable when mismanagement of traffic system is being widely criticised following the death of Titumir College student Rajib Hossain in a tragic road accident in the capital.
On April 3, the third-year student lost his right hand after it got stuck between two speeding buses trying to overtake each other in Bangla Motor area. He lost the battle for his life at Dhaka Medical College and Hospital on April 17. His death saddened the whole country and exposed glaring lapses in road management.
Read More: 
Notably, Khalid Hasan Hridoy, 19, a student of class-X, lost the hand on Dhaka-Khulna highway in Gopalganj on April 17. He has been undergoing treatment at DMCH since then but doctors sated his condition still critical.
In another such instance, Runi Akhter, a student of University of Development Alternative (UODA) in Dhanmondi, got her leg crushed as a bus smashed her right leg against the base of a pavement in the capital's Farmgate on April 12.
The latest victim of the accident spree is Rozina Akhter, 18, a housemaid, whose right leg got severed from her thigh in a mishap in Dhaka's Chairmanbari area last night.