Two innocent lives cut short
Truck rams motorcycle carrying siblings, father; 8 others killed in road crashes across country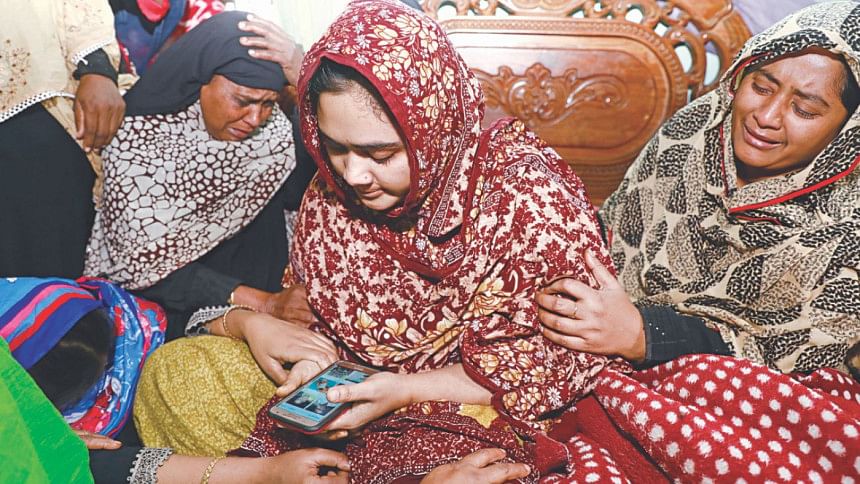 Two siblings were killed after a truck rear-ended the motorcycle they were in South Keraniganj on the Dhaka-Mawa highway, while at least eight others died in different accidents in three districts.
Most of the accidents resulted from recklessly-driven trucks.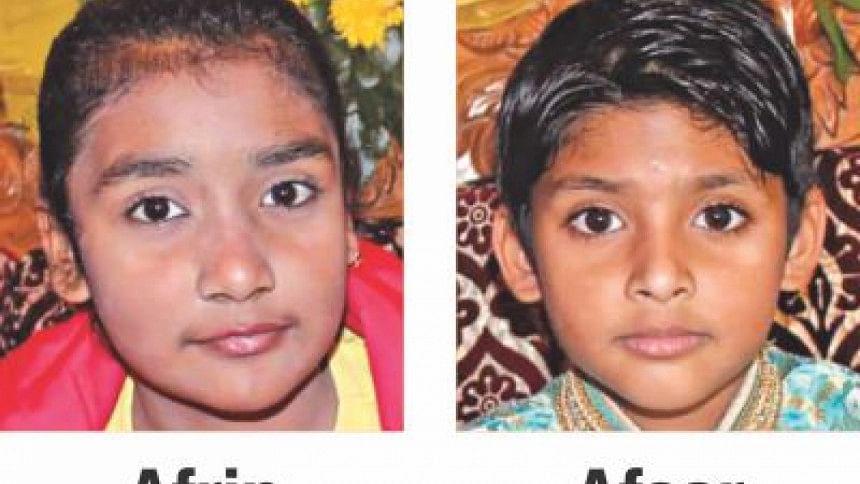 In the Keraniganj incident, the dead -- Fatima Afrin, 12, a sixth grader and Afsar Hossain, 10, a fourth grader -- were returning to their Purahati home in the area from school on a motorcycle driven by their father Kalim Hossain.
As they neared their home around 11:00am, a truck suddenly crashed into them from behind and dragged the two children for a few metres before fleeing the scene. They were killed on the spot.
Both were students at the Cosmopolitan Laboratory School and College. Their father, a rent-a-car businessman, was left injured.
Witnesses said Hossain was riding his motorbike with his two children around 11:00am. Of the three, only he had a helmet on.
"When they reached near Priayangon Residential area, a recklessly driven goods-laden truck hit them from behind. The father fell off on the left side while the two children fell on the right. The truck dragged them a few metres ahead," Alimuzzaman Rony, an engineer, told The Daily Star.
People on the spot tried to catch the truck but it sped up. It was finally found abandoned by a police team near Dhaleshwari toll plaza. The driver and the helper had both managed to escape.
The bodies were immediately taken to Sir Salimullah Medical College Morgue from where they were later sent home for burial.
As the news spread, hundreds of students of the school took to the street around 12:30pm protesting the deaths. The Dhaka-Mawa highway was blocked for 40 minutes before they called off the blockade on assurance of getting justice.
The protesters also demanded that trucks stop plying the road during school time.
Mohammad Sentu, an uncle of the deceased, said his nephew and niece were bright students. "Fatima passed PSC exam securing GPA 5 recently and her parents wanted her to be an engineer."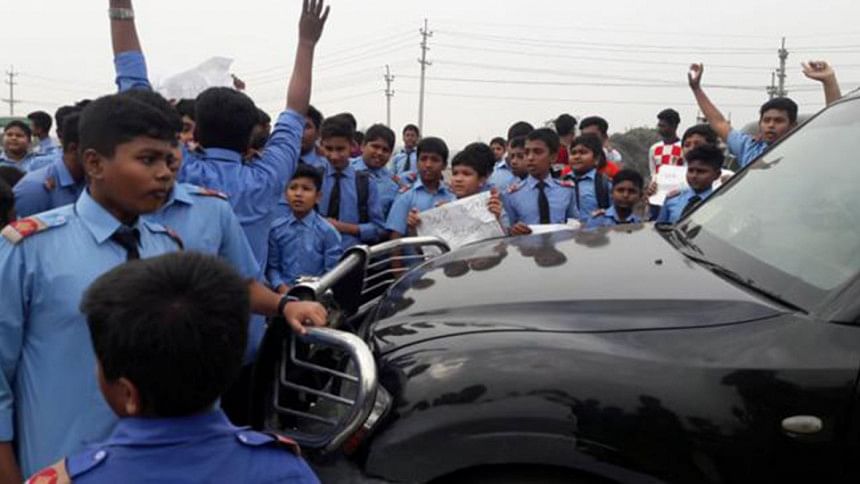 ACCIDENTS ABOUND
In another tragic incident, an iron rod-laden truck veered off the road onto a footpath on Airport Road in the capital killing a youth and his brother-in-law in the early hours of yesterday.
Dalim, 18, along with his newly-married brother-in-law Mobarak, 30, came to the capital on Sunday from Narsingdi to see off his elder brother Rubel, who had a flight scheduled to leave for Saudi Arabia yesterday afternoon.
They boarded at a hotel near the Airport area. At night, Dalim and Mobarak came out of the hotel to see the airport. As they were walking near the Airport entrance, suddenly a recklessly-driven truck ran them over and rammed them into the police box.
"Now what I will say to my sister? How will I board the plane?" an emotional Rubel told reporters after the incident.
Standing in front of the Dhaka Medical College Morgue yesterday afternoon, Ataur Mia, Dalim's father talked to Rubel over the phone while he waited for his youngest son's body.
"She had married Mobarak just 16 days ago," Ataur, a farm labourer, said about her daughter's misfortune.
Airport Armed Police Battalion's Additional Police Superintendent Md Alamgir Hossain said the truck first rammed a microbus near the airport crossing and then ran over the two men while trying to flee.
Police seized the truck and arrested its driver and helper.
Besides, six others were killed in four separate roads accidents in the city's Khilkhet, in Shyampur, Mymensingh and Rajbari on Sunday and yesterday.
In Shyampur, one Abbas Ali, 55, was killed as he was run over by the truck he was on at Jurain Railgate yesterday. Abbas, a truck helper, was hanging from the gate of the truck, when the driver suddenly braked after hitting an auto-rickshaw. The sudden jerk made Abbas lose his balance and he fell on the road, police said quoting the driver. 
In Khilkhet, a youth was killed and two others injured in a road crash on the 300-feet road in Dhaka's Khilkhet area early yesterday.
Mostafizur Rahman, officer-in-charge of Khilkhet, said the three young men were found critically injured inside a damaged a CNG-run auto-rickshaw around 4:00am. But it could not be known how the accident occurred.
Meanwhile in Rajbari, a motorcycle rider and his pillion rider were killed when a truck hit the motorbike at Bus Terminal area on Rajbari-Faridpur regional road on Sunday night.
Elsewhere in Mymensingh, truck-driver Mohammad Al Amin, 22, and his helper Hafizur Rahman, 20, were killed when their truck collided with a Bhaluka bound bus in Signboard area on Dhaka-Mymensingh highway in Trishal upazila, police said.
Fifteen others were injured in different accidents. Of the injured, 11 were taken to Mymensingh Medical College Hospital, said OC of Trishal Police Station Azizur Rahman.
Such fatal accidents have been taking place at a time when the fortnight-long traffic discipline campaign has been on-going in the city. The campaign comes following the countrywide student movement for road safety in August last year after the death of two students.
According to passengers' welfare body Bangladesh Jatri Kalyan Samity, at least 7,221 people were killed and 15,466 others injured in 5,514 road crashes across the country last year.
It found that almost 20 people got killed on an average every day last year, mostly because of reckless-driving, risky-overtaking, faulty roads, unfit vehicles, unskilled drivers and a general lack of awareness among road users.