5 dead as segment of viaduct falls on car from crane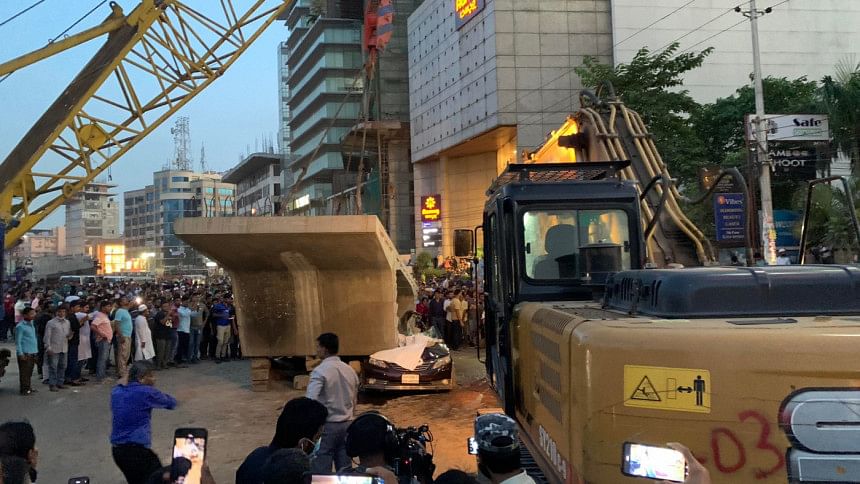 Five people were crushed to death after a segment of a viaduct meant for the Bus Rapid Transit (BRT) project fell from a crane on a car in Dhaka's Uttara this afternoon (August 15, 2022).
The deceased were identified as Md Rubel Mia (60), Fahima (37), Jharna (26), Jannatul (6) and Zakaria (4).
All the deceased --members of the same family-- hailed from Islampur upazila of Jamalpur, according to the fire service officials.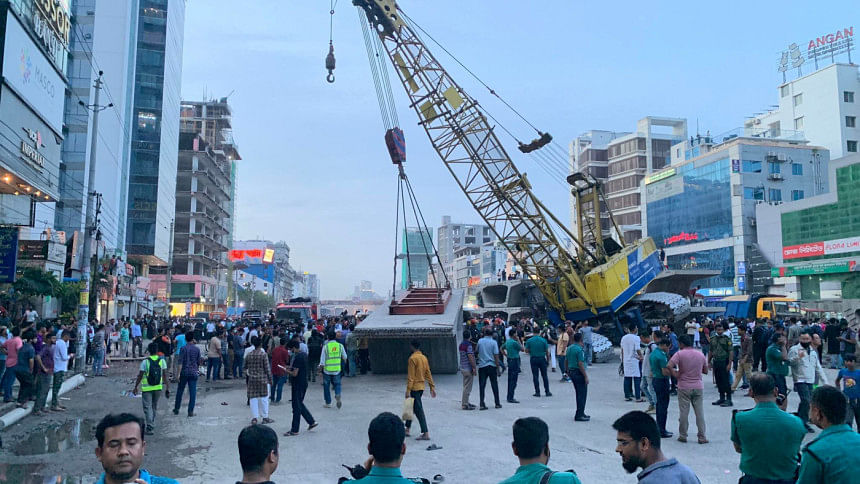 The accident happened around 4pm at Jashim Uddin area, said Mohammad Mohsin, officer-in-charge of Uttara West Police Station.
The segment of the viaduct was removed from the top of the car, he said.
"We rescued two persons from the car alive. They are newly-married couple-- Riya Moni (21) and her husband Hridoy (25)," he said.
They are undergoing treatment at Uttara Crescent Hospital, OC Mohsin said.
A crane carrying the viaduct could not bear its weight and lopsided after losing balance and the girder crashed through the roof of the car, crushing it, said the OC.
A newly-wed couple -- Hridoy and Riya Moni -- along with five other relatives in the car were headed towards the bride's house in Ashulia's Khejurbari from Kawla area.
The groom's father Rubel, a businessman, was driving the car when the viaduct segment fell on the vehicle from a crane in the Jashim Uddin area in Uttara.
Seven people including the couple, the bride's mother, the groom's father, and two children were inside the car.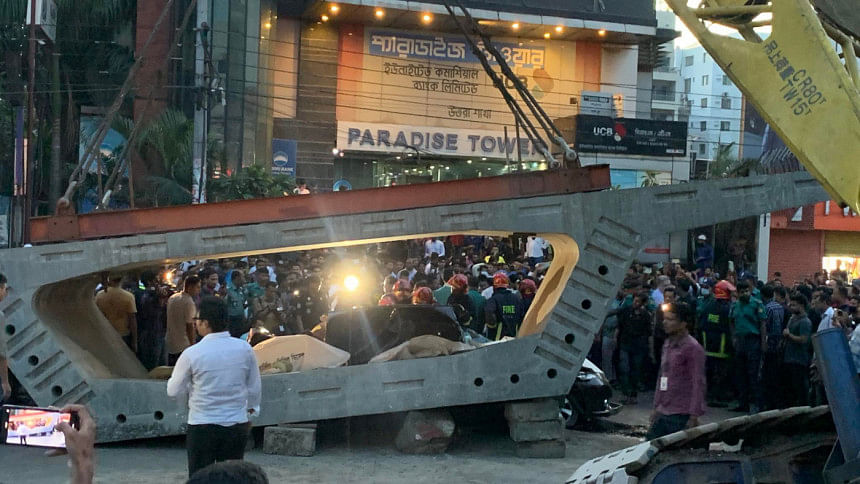 Two firefighting units from Uttara Fire Station were at the spot conducting rescue operations, said Dewan Azad, duty officer of Fire Service and Civil Defence.