UP polls: Violence claims 5 lives in 4 districts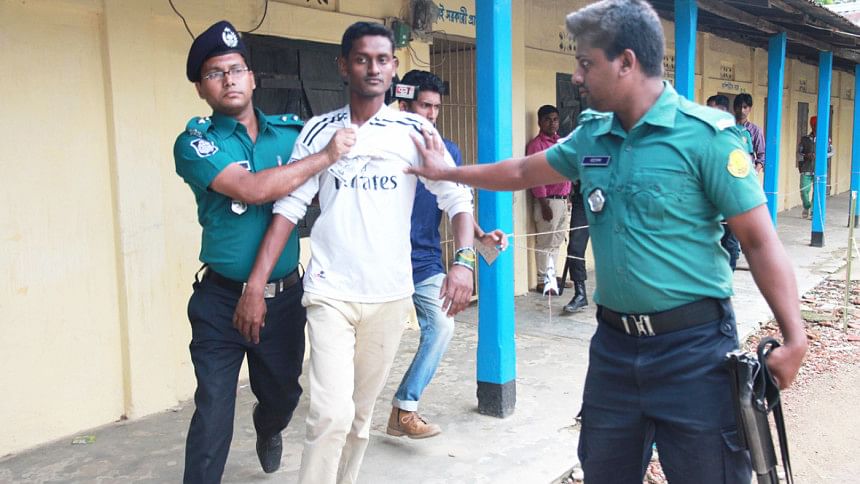 Four persons were killed during clashes among supporters of candidates and police in three districts while a sexagenarian man was killed in Narsingdi after he protested casting of his vote by others during the fourth phase of Union Parishad election today.
Of the four, two were killed in Rajshahi and one each in Thakurgaon and Comilla, according to police.
In Narsingdi, a 60-year-old man died of his wounds after alleged supporters of a pro-Awami League chairman candidate attacked him as he protested casting of his vote by somebody else.
In the fourth phase of the UP election today, 703 unions of 47 districts went to polls.
The previous phases of the elections were marred by deadly clashes and irregularities. Over 65 people were killed, including 19 on three polling days, and several thousand injured in violence over union parishad polls across the country, according to media reports.
RAJSHAHI
Supporters of Auzpur Union chairman candidate Sarder Jan Mohammad from AL and rival candidate Shahiduzzaman Shahid locked in a clash and chase and counter-chase in Sharondi village in Bagmara Upazila after supporters of one candidate attacked the house of his rival candidate around 5:00pm, police said.
As law enforcers rushed there, supporters of the pro-AL candidate opened fire on police, said Officer-in-Charge (OC) Matiar Rahman of Bagmara Police Station.
In reply, police opened fire to disperse the mob. A man named Siddiqur Rahman, 30, died on the spot this time, added the OC.
Meantime, another man died during the clash, according to Rahman. "He might have died from heart attack."
At least 50 men including seven policemen were wounded in the clash, the police official said.
NARSINGDI
Our correspondent reported that when 60-year-old Hossain Ali went to Uttar Paratoli UP Government Primary School polling centre to cast his vote around 3:30pm, supporters of a pro-AL chairman candidate told him that his vote was already cast and advised him to go away.
"As he protested, they attacked him with a tenta (a sharp spear-like object used for fishing), leaving him severely injured," said Azharul Islam, officer-in-charge of Raipura Police Station.
Hossain Ali was rushed to Raipura Upazila Health Complex, where he died around an hour later.
This incident led to a clash between the pro-AL candidate and his rival. Several houses of both the groups were vandalised in the attack.
THAKURGAON
While voting was going on, a clash broke out around 3:00pm between supporters of two member candidates at Taldanga Dakhil Madrasa polling centre in Pariya Union of Baliadangi Upazila, reports our correspondent quoting locals.  
To control the situation, police opened fire.
A 17-year-old youth named Mahbubur Rahman Paltu from Mathkhuria village of the Upazila received bullet this time.
"Paltu was hit by a bullet when cops open fired to control the situation. He died while on the way to hospital," Aminul Islam, officer-in-charge of Baliadangi Police Station, told the Daily Star over telephone.
COMILLA
While voting was going on, an altercation ensued near a polling centre at Uttar Chandala Bazar in Madhobpur union in Brahmanpara Upazila between the supporters of two member candidates – Sultan Ahmed and Rezaul Karim of Chandla union parishad – around 11:00am.
At one stage, both the groups pounced on each other, leaving one person dead and five others injured in the resulting clash, said Badiuzzaman, officer-in-charge of Brahmanpara Police Station.
The deceased, Tapos Das, 30, received stab injuries in the head and chest during, a local stringer reports.
The injured were rushed to Brahmanpara Upazila Health Complex.
4 SHOT IN FENI
Four people were shot in a clash between the supporters of two member candidates over taking control of a polling centre in Shuvopur union of Chhagolnaiya upazila this morning, UNB reports.
Shamsul Alam Sarker, assistant superintendent of police, said men of two member candidates of Shuvopur union locked in an altercation over taking control of Jagannath Sonapur Government Primary School polling centre in the upazila around 7:45am.
At one stage, both the groups exchanged fire, leaving four people injured.
Law enforcers brought the situation under control.
5 HURT IN MUNSHIGANJ
Five people were injured, including a policeman, in a clash that ensued over establishing control on Milkipara Primary School polling centre at Rampal union in Sadar upazila.
A mobile court sentenced Asad, arrested in connection with the incident, to three months in jail, said Md Harun-or-Rashid, additional deputy commissioner of Munshiganj.
Rabiul Islam, an assistant sub-inspector (ASI) who was injured in the clash, is receiving treatment to Munshiganj General Hospital. 
Miscreants also exploded four to five crude bombs at Panam Primary School polling centre of the union to take control over the polling centre. Law enforcers later brought the situation under control.