Country keeps shivering in bitter cold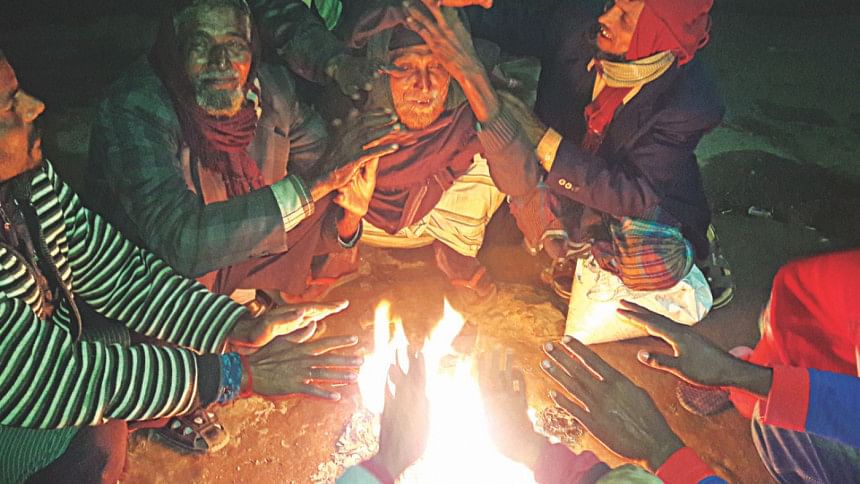 The cold wave continued to disrupt life across the country yesterday.
Yesterday's lowest temperature recorded was 5.1 degrees Celsius in Dinajpur.
The cold wave is sweeping over Rajshahi, Pabna, Dinajpur and Kushtia regions, the Met office said. It forecasts moderate to thick fog in parts of the country during the day. Day temperature is expected to remain nearly unchanged.
The Met office said the mild to moderate cold wave sweeping over Dhaka, Mymensingh and Barisal divisions and parts of Rajshahi, Rangpur and Khulna divisions and Srimangal and Sitakunda may continue.
In Ishwardi, rail communication between Rajshahi and the northern and southern districts was suspended for four hours due to a  derailment near Ishwardi by-pass area around 7:30am.
Shawkat Jamil Mohoshin, the railway divisional traffic officer, said the derailment happened due to a failure to read the signals in the dense fog.
A freight train from Ishwardi station rescued the train around 11:30am, he said. A three-member probe committee has been formed to investigate the incident.
Meanwhile, severe cold paralysed life in Pabna as the temperature remained below six degrees Celsius for the second consecutive day.
The temperature was 5.5 degrees Celsius in Pabna yesterday. Low temperatures will continue for the next few days in the district, said Md Abdul Khaleque, an officer at Ishwardi Met office.
In Pabna Boro Bazar area, dozens of labourers waited all morning for work but had to return. "If I do not earn, my family members starve. I have had no work since Tuesday," said Almas Hossain who lives in Gachpara area of the town.
Meanwhile, some 15 children have been admitted to Pabna Medical College Hospital with cold related ailments over the last few days.
In Dinajpur, the cold wave that began Friday has seriously disrupted normal life.
At least 37 people, including 29 children, were admitted to M Abdur Rahim Medical College Hospital in Dinajpur and Rangpur Medical College Hospital with cold-related ailments within 24 hours ending yesterday evening.
Tofazzal Hossain from Dinajpur Met office said temperatures may rise after Tuesday.
In Gaibandha, 105 children were admitted to Gaibandha Sadar Hospital over the last five days.
The District Agriculture Extension Office said seed beds of boro crop would be affected if the fog sustained for longer.
Idris Ali, district relief and rehabilitation officer, said they have so far distributed 54,750 pieces of blankets in all 82 unions.
In Lalmonirhat, the cold wave hit the poor and homeless the hardest. "We have no warm clothes," said freedom fighter Abul Kashem, 66, in Dalpatti slum area of the district town. 
Deputy Commissioner of Lalmonirhat Shafiul Arif said warm clothes, especially blankets, were distributed among the poor in slums and flood-prone and char areas.
Deputy Commissioner of Thakurgaon Abdul Awal said they have so far distributed 34,177 blankets from the relief and disaster management directorate.
[Our correspondents in Pabna, Dinajpur, Gaibandha, Lalmonirhat, and Thakurgaon contributed to this report]