17.5 km Panchagarh road cracks days after repairs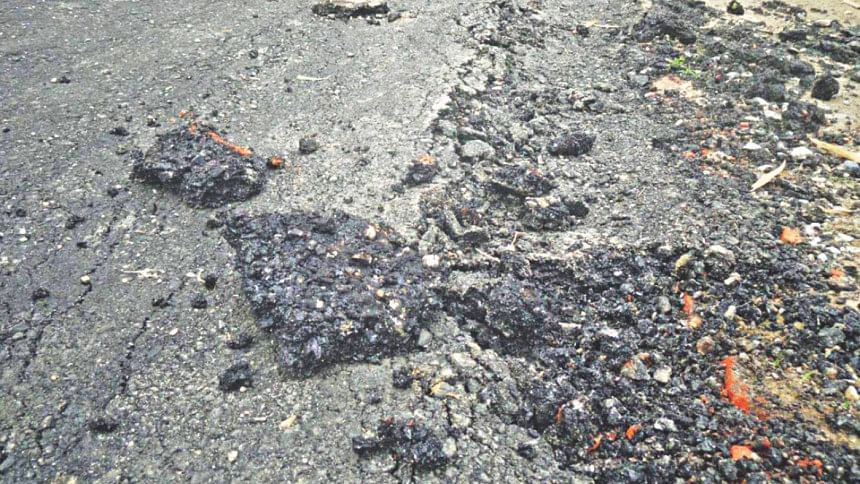 Only a few days after completion of renovation work, the 17.5-kilometre road from Panchagarh Sugar Mills to Debiganj via Benghari and Marea villages in Panchagarh district developed cracks at places.
The Roads and Highways Department (RHD) early last year floated tender to renovate the 17.5-kilometre road, including overlaying on the existing bed of its 10.5 km portion and thorough renovation after digging up the remaining 7 km, local RHD office sources said.  
Dhruba Construction Ltd was given the work order as the lowest bidder to complete the work at a cost of Tk 6 crore 81 lakh, setting the time frame for January this year.  
The firm completed the work on January 12 but after three days, the road got damaged and cracks developed at places, especially on the portion from Dhulajhara Bazar to Takahara Bazar, locals alleged.
During a visit on Wednesday, this correspondent saw cracks at different points of the newly renovated road while sand was put to cover some of the damaged portions.
The road got damaged soon after completion of the renovation work as it was done with substandard materials, said Fazlur Rahman, 55, a trader of Takarhat Bazar.
Responding to complaints about the anomalies in the renovation work, a team led by Additional Chief Engineer of Rangpur Zone of RHD Hafizur Rahman visited the road on Tuesday.
Contacted over cell phone, Hafizur Rahman said, "We asked the contractor to reconstruct the damaged portions of the road, digging it up again."          
Executive Engineer of Nilphamari RHD Tanvir Siddique, who is also in charge of Panchagarh as additional duty, said, "As per instructions of Additional Chief Engineer Hafizur Rahman, a section officer has been asked to monitor the road for 15 days. If any cracks develop, the contractor will have to repair it."
Contacted over mobile, engineer of Drubo Construction Ltd Kazi Helal claimed that they used quality materials in sufficient amounts as per schedule for the road renovation work.
"As mentioned in the work schedule, the road has the capacity to absorb the pressure of 22-tonne load capacity vehicles. But 40/50 tonnes of sand-laden trucks from nearby Karotoya River often use the road, causing the road to get damaged and develop cracks at places," he said. 
According to Bangladesh Road Transport Authority's rules, up to 22 tonnes of load capacity vehicles are allowed to ply regional roads like Panchagrh Sugar Mills-Benghari-Marea-Debiganj road, he added.