Nearly 20 lakh Dhaka residents could be Covid-19 positive, 78% asymptomatic: study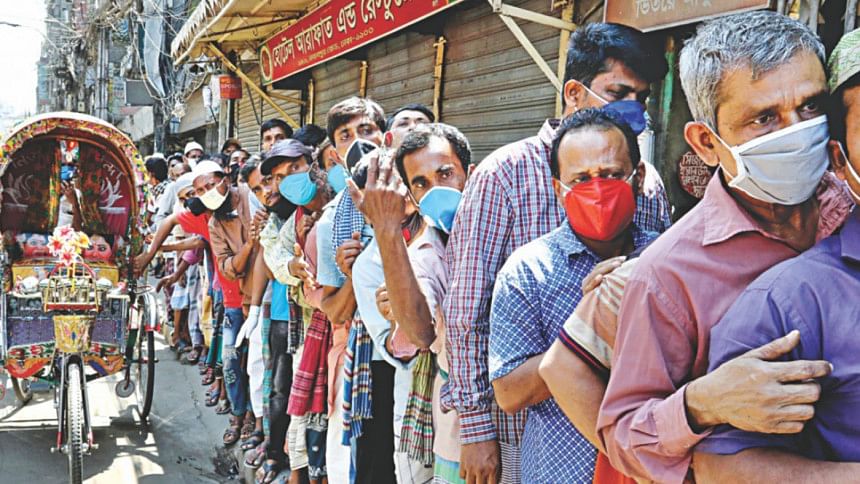 Around nine percent -- nearly 20 lakh -- of Dhaka city dwellers could be Covid-19 positive with roughly 78 percent of them exhibiting no symptoms, said a study.
This rate is lower among slum dwellers -- only six percent of those tested as part of the study were found positive for the virus, according to the preliminary findings of the study jointly conducted by the Institute of Epidemiology, Disease Control and Research (IEDCR) and the International Centre for Diarrhoeal Disease Research, Bangladesh (icddr,b).
The percentage is much higher than the figure provided by the health directorate, which indicates there are many more cases undetected as the virus continues to spread.
As of yesterday, there are around 66,630 confirmed cases in Dhaka city -- more than 25 percent of the 2,60,508 confirmed cases across the country.
Under the cross-sectional survey, 3,227 households were surveyed across the capital between April 18 and July 5, said an IEDCR press release yesterday evening.
The study identified 211 symptomatic individuals, and 199 of them were tested for the novel coronavirus using RT-PCR testing method.
A total of 435 asymptomatic individuals were selected from symptomatic households. Of them, 201 tested positive for the virus. Also, 827 asymptomatic individuals were selected from asymptomatic households, with 538 of them testing Covid-19 positive.
An additional sample of 720 households was collected from six slums in the city.
Among the confirmed Covid-19 cases who exhibited symptoms during the study, 93 percent had a fever, 36 percent had a cough, 17 percent had a sore throat, and only five percent had shortness of breath on the day of testing.
Among the Covid-19 cases who had symptoms and tested positive in the RT-PCR test, 15 percent needed to be hospitalised.
Only one death was reported among all the Covid-19 cases under the study with one month of follow-up.
The deceased individual was symptomatic and hospitalised.