Consider interests of Bangladeshi workers during pandemic: Dhaka to host countries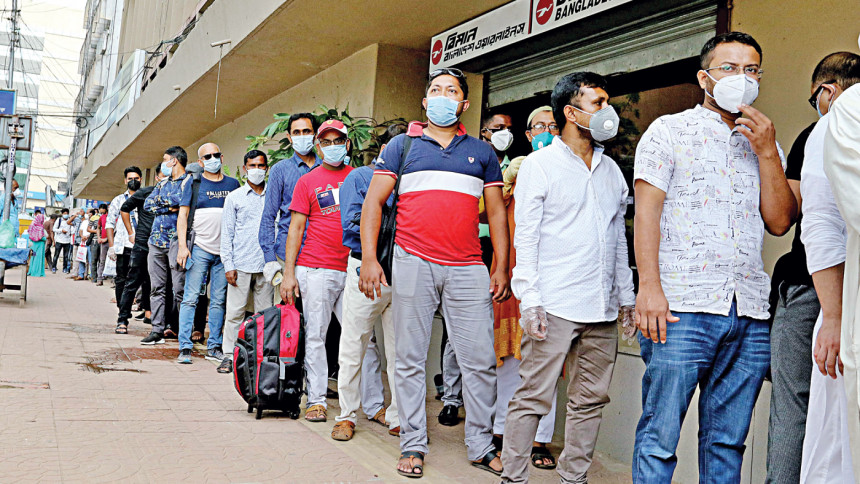 Dhaka today urged the countries which host migrant workers, to consider the interests of Bangladeshi expatriates sympathetically in the present context of Covid-19 pandemic.
The call was made when Foreign Minister Dr AK Abdul Momen and Expatriates Welfare and Overseas Employment Minister Imran Ahmad briefed diplomats of a number of countries hosting the expatriate workers at state guesthouse Padma.
Ambassadors and representatives from the Kingdom of Saudi Arabia, United Arab Emirates, Qatar, Oman, Iraq and Malaysia were present at the briefing while Kuwait ambassador could not attend it due to the death (on Tuesday) of Kuwaiti Amir Sheikh Sabah al-Ahmed al-Sabah.
Dr Momen said they requested those countries to consider the workers' issue sympathetically.
The government today briefed diplomats of the Gulf countries and Malaysia on manpower issues, highlighting ways to address problems of expatriate workers amid the Covid-19 pandemic.
During the briefing, the two ministers described the problems faced by the expatriate workers, who have been stuck here due to the pandemic, in returning to their workplaces abroad as well as discussed ways to resolve the issues.
"We had a good meeting … we urged them to see the matter (workers' problems) sympathetically," Dr Momen told reporters after emerging from the meeting with the diplomats.
"I'm always hopeful," Imran said, adding that he is expecting positive response from the countries regarding the issues related to welfare of expatriate Bangladeshi workers at home and abroad.
The foreign minister said around 6,000 people have already returned to their workplaces abroad and others would be able to return.
"We have some issues in quick return to Saudi Arabia … apart from Saudi, we don't have any problem with other countries in sending our stranded expatriate workers," he said.
To solve the flight issue, Momen said, the civil aviation authorities of both the countries gave permission to operate 20 weekly flights from tomorrow.
Biman Bangladesh Airlines and Saudi Airlines will operate 10 weekly flights from tomorrow to carry back huge number of stranded Bangladeshi workers to the oil-rich Gulf nation.
Momen said the Saudi Arabian embassy here will agree to re-issue 25,000 visas for Bangladeshi workers who availed it in March last and whose visas expired amid the pandemic.
Pointing out that the Saudi mission here has only seven employees, Dr Momen urged all the stranded Saudi-bound Bangladeshi workers to show patience as "by and large" everyone will be able to renew their visas.
Recalling that there was a fear that 10 to 15 lakh Bangladeshi expatriate workers were supposed to be forced to come back due to Covid-19, he said only 137,000 Bangladeshis returned home amid the pandemic.
He said the Bangladeshis expatriate workers are smart and hard working while they know how to survive in difficult times.