Workers' lives on the edge
Low-paid industrial workers find it hard to make a living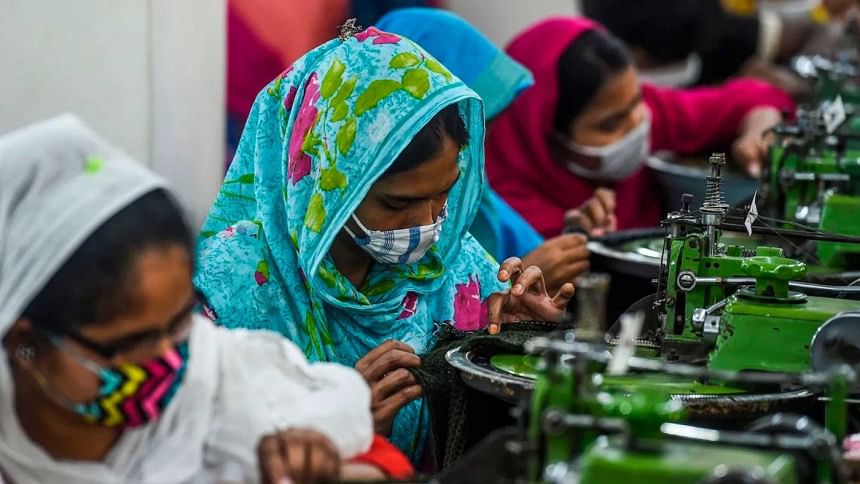 Purchasing power of factory workers in the capital and its outskirts has fallen sharply amid surging inflation.
As prices of essentials soar, the workers are forced to buy less and dip into savings to support everyday expenditure.
Moreover, the workers who used to get paid for working overtime are seeing their monthly earnings shrink because small garment factories and other industrial units are producing less due to frequent power outages.
"I used to earn around Tk 12,000 a month with the overtime. We rely heavily on overtime. But due to load-shedding, we have to pause our production for several hours every day. And there is no overtime," said Sharif, a garment factory worker in Gazipur.
He added that his monthly earning has been around Tk 9,000 for the last three months.
"I have stopped buying almost all the non-essential items and am still finding it hard to make ends meet," said the man in his early 30s.
His sister Sumaiya Begum and her daughter live with him in his shanty in Kashimpur area of Gazipur city.
"We recently stopped having breakfast. We take the day's first meal at lunch. I used to give my daughter a glass of milk or an egg every two days. Now, we do this once a week at most. We have also reduced buying medicines for our ailing mother," she told The Daily Star.
Similar stories of hardship were heard from many industry workers.
HUNGER AND UNCERTAIN FUTURE
Kod Banu, cleaner of a printing mill in the capital's Tejgaon, saw her monthly income drop by Tk 1,500 because her employers have been closing the factory early since July.
"I get Tk 8,000 a month. I used to earn an additional Tk 1,500 by working till 8:00pm. But now my factory closes at 4:00pm," she said.
She has to spend Tk 3,000 for rent and her husband, who is in his 70s, has to go out looking for work again.
"A few months ago, each of us used to eat two chapati and a cup of tea for breakfast. It cost us Tk 30 as the price of a chapati was Tk 5 and a cup of tea Tk 5. The price of chapati has risen to Tk 10 and a cup of tea to Tk 6.
"Now we eat one chapati each with a cup of tea. But I feel hungry after 11 in the morning. I wait desperately for lunch break to go home and eat rice with either mashed potato or lentil.
"My husband scavenges discarded things, but he cannot work for a long time. He earns Tk 50-100 a day."
"What else can we do? Even vegetables are now too pricey for us. We don't know what lies ahead," she said.
Babul Hossain is a senior welder and his wife a cleaner at a factory in Tejgaon industrial area.
"High-voltage electricity is needed for our production. But we get the required voltage only for a few hours in the afternoon and after midnight. Our production is suffering a lot and all the workers lost a significant part of their income," he said.
"We had to move our home to a shanty and cut short our food expenditure as things have become unaffordable. Most unfortunately, I had to ask my mother to look for work as a domestic help. Unless we get financial support from her, it would be extremely difficult for us to continue our three children's education," added an anxious Babul.
Tobarak Ali, foreman of a chemical factory in Tejgaon, said he moved to Keraniganj to be able to pay the rent.
"Now I have to leave for work by 5:00am. By the time I return home after work, the clock hits 10:00pm. The struggle has already taken a heavy toll on my health," he said.
UP AGAINST THE WALL
Labour leaders said the workers should get financial assistance from the government .
"We have lost much of our income and many of us have incurred debts," said Mizanur Rahman, leader of an association of metal and welding workers.
Kalpona Akter, executive director of Bangladesh Centre for Workers Solidarity, said, "Rising inflation and shrinking salary have pushed the workers to their limits."
She said the government brutally suppressed the RMG workers' demonstrations for a raise in June but did nothing to help the workers survive.
Bangladesh Labour Welfare Foundation, a government body, should come up with a programme to help the workers through the tough time, she said.
Contacted, Mollah Jalal Uddin, director general of the foundation, said, "We can provide assistance only to the workers who fall under the four categories defined by the Bangladesh Labour Welfare Foundation Act, 2006."
Kalpona Akter, however, said frustration among workers was intensifying day by day.
"The government should take immediate measures to rescue the workers whom we call the backbone of our economy," she said.