Treeman wants to celebrate Eid at home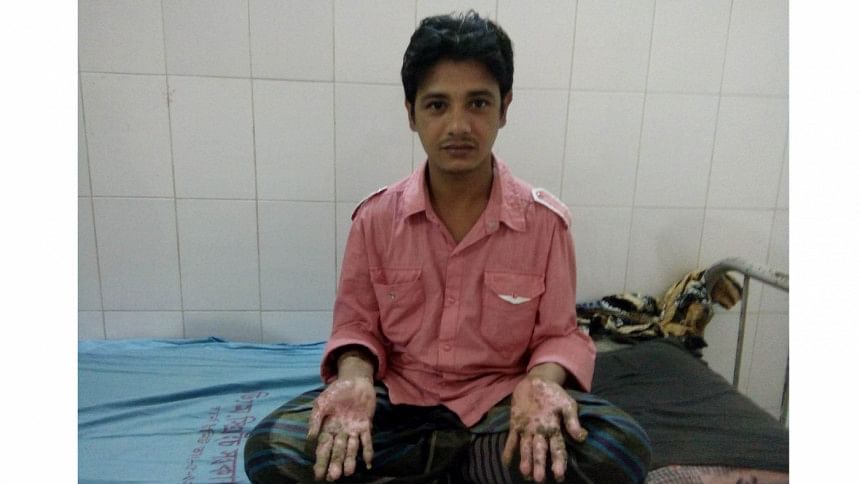 Abul Bajandar, who is believed to have been suffering from 'treeman syndrome' and has undergone as many as 24 surgeries at Dhaka Medical College Hospital (DMCH), is now anxiously waiting for doctors' green signal to celebrate this Eid at home.
The 27-year-old man hailing from Paikgacha of Khulna told The Daily Star that he is eager to celebrate this Eid-Ul-Azha with his family.
"I miss my relatives, friends and villagers back in home," he said.
Bajander who has been in the hospital since January 30 last year is now restive as his wife Halima Khatrun and his daughter Jannatul Ferdous Tahira have already gone home.
"I don't know how long I have to wait since I have had to spend over one and a half years in the hospital," he sighs adding "I am just waiting for doctor's green signal."
Meanwhile, Doctor Samanta Lal Sen, national coordinator at the National Institute of Burn and Plastic Surgery, told this correspondent that a medical-board will decide upon whether he will be released before the Eid.
Bajandar, the fourth man in the world with the treeman illness and the first reported case in the country, has been suffering from a rare skin disorder caused by a virus named human papillomaviruses, was admitted to the institute on January 30, 2016.
The medical team treating Bangladesh's first "treeman" Abul Bajandar performed 24 surgeries on him in so far warts partially regrew on his hand.
The warts began to appear on Bajandar's limbs when he was 15. After he married in 2011, those grew so big that he could not even move the hands and legs. So he had to quit his profession as a rickshaw-van driver.