Torch procession at Shahbagh protesting attack on Zafar Iqbal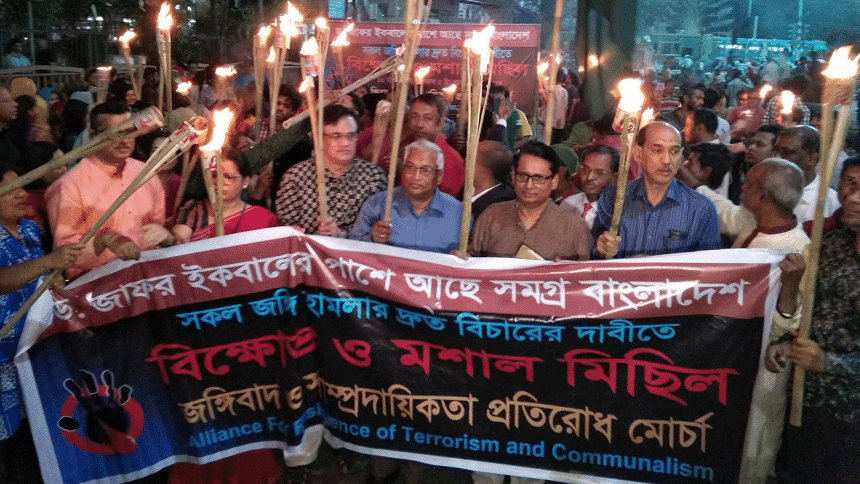 Alliance for Resistance of Terrorism and Communalism staged a demonstration at Shahbagh in Dhaka this evening in protest of the attack on renowned writer Prof Muhammed Zafar Iqbal.
They also brought out a torch wielding procession from Shahbagh intersection that paraded to the Dhaka University's Teacher-Student Centre (TSC).
Addressing a rally, speakers from the platform said that the country is gradually drifting apart from the spirit of Liberation War and the "militant attack" on Prof Iqbal is a consequence of it.
Demanding trial of all militant attacks in the country, they called upon the countrymen so that they do not fall into the trap of militancy. They also urged the government to subdue the phenomenon of militancy with iron hand.
Bangladesh Hindu-Buddha-Christian Oikkyo Parishad's General Secretary Advocate Rana Dasgupta said, "Communalism and fundamentalism have taken a firm root in the country as the state is being run getting apart from the spirit of Liberation war."
Prof Akhtaruzzaman, vice-chancellor of Dhaka University, said this kind of protests must go on as these sort of programmes awaken the spirit in people's mind.
Eminent educationist Prof Iqbal was knifed under broad daylight at Shahjalal University of Science and Technology. He is currently out of danger.
The bearded youth, who stabbed the professor, was caught red handed. Some more people, including the assailant's father, were later detained in this regard.