Terror attacks more frequent than before: Police
Reveals police statistics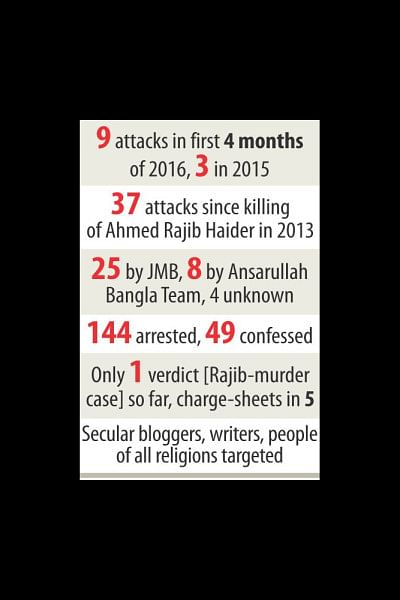 Amid a recent spate of terrorist attacks, police yesterday released a statistics that showed the number of attacks in the first four months of this year tripled compared to that of last year.
Between January and April last year, three terrorist attacks took place while as of April 30, this year as many as nine attacks were committed, said the statistics.
Asked whether police have failed to curb extremism, Inspector General of Police AKM Shahidul Hoque replied in the negative and said they have taken sufficient preventive measures. "Otherwise, the attacks would have increased," he said.
The IGP released the statistics at a press briefing at the police headquarters in the capital.
Since 2013, 37 attacks took place. A Dhaka court on December 31 last year gave death penalty to two persons and different jail terms to six others, including Ansarullah Bangla Team (ABT) chief Mufti Jasimuddin Rahmani, for the killing of blogger Rajib Haider in February 2013.
The rest of the cases including the killing of US-Bangladeshi citizen Avijit Roy are under investigation.
The IGP, however, claimed they were able to "detect" or unearth the motive behind the attacks in 33 cases.
Of the 37 attacks, two were in 2013 and 26 in 2015. The report does not mention any militant attack in 2014.
"The attacks claimed by the IS are actually committed by JMB while those claimed by the Al Qaeda in the Indian Sub-continent are by ABT," the IGP said.
Six top extremists have been executed till date while death sentence verdicts of 23 others are at the Appellate Division, he added.
The IGP urged all to work together to tackle extremism.
The police boss said it is tough to provide door to door security while curbing crime; security will be ensured through applying law.
The IGP said they came to be sure that the Kalabagan  double-murder was done by ABT through analysing the nature of the attack.
He claimed they were able to identify the killers of RU Prof Rezaul. "The mystery will be revealed once they are arrested."
The IGP said they needed different facts and evidences which are time consuming and will welcome any foreign agency to assist in solving criminal cases, he added.