Spilled oil flows towards Karnaphuli
Sunken wagons yet to be salvaged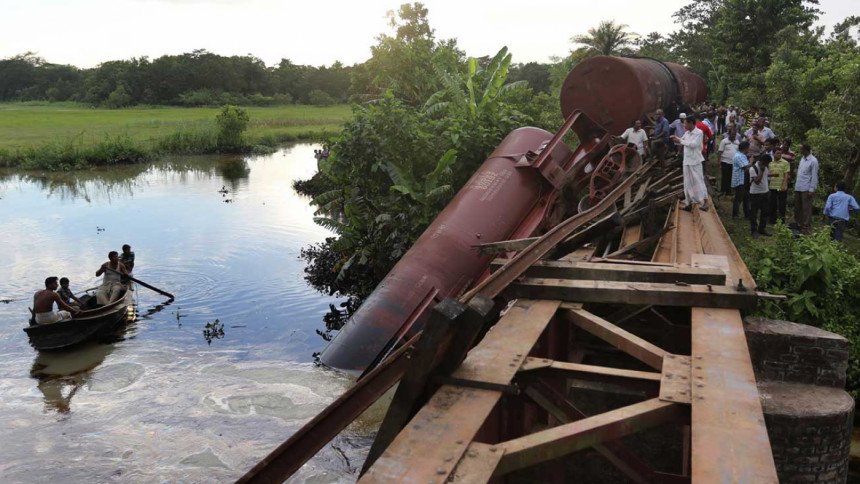 The oil spilled from three wagons of a train that plunged into a canal in Boalkhali upazila of Chittagong is flowing towards Karnaphuli river this morning.
The spilled oil already spread at Paschim Satpura in the upazila from where the river is only three kilometres away, reports our Chittagong correspondent.
Meanwhile, the railway authorities are trying to salvage the three wagons carrying furnace oil that plunged into a canal when a bridge gave way at Khitabchar around 1:30pm yesterday.
The authorities are removing oil from one of the three wagons which was hanging from the railway track, said Md Rokunazzaman, additional chief operating superintendent of Railway (east zone), told the correspondent.
Oil is being also collected from the other wagons that remain unhurt on the tracks, the railway official said.
All the sunken wagons might be rescued by Sunday, he added.
A thick layer of oil is floating on the canal water, which is flowing towards the Karnaphuli river very fast, causing a serious threat to the environment.
Railway sources said the train was carrying the oil for Dohazari Peaking Power Plant from the port city and each of the wagons was carrying around 25,000 litres of oil.
Three people, including the train's Loco Master Sahidullah and Assistant Loco Master Zafar, were hurt in the accident.
Train movement on the route was suspended.