Mistakes can occur during anti-narcotics drive: Quader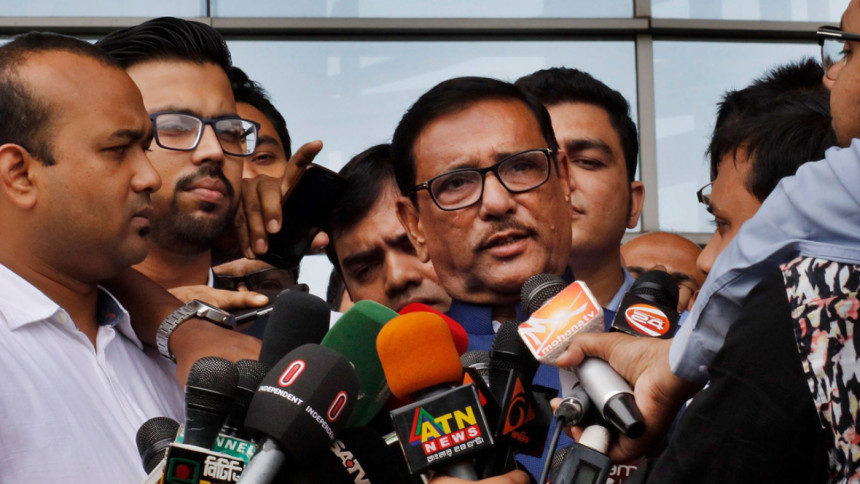 One or two mistakes can occur during the ongoing anti-narcotics drives, said Road Transport and Bridges Minister Obaidul Quader.
Asked whether the death of Teknaf councillor Akramul Haque in crossfire has made the ongoing drives questionable, Quader said, "Not at all."
Quader, also the Awami League general secretary, said "One or two mistakes can happen during this kind of drives."
"I do not know whether an innocent person has been killed. The matter can be cleared only after investigation. Nothing can be said before investigation."
Quader made the comment in reply to a query from reporters after he inaugurated a transport service "Dolanchapa" for females at Bangabandhu International Convention Center.
The minister further said the prime minister herself gave instruction if any innocent person is harassed during these anti-narcotics drives, the responsible persons will not be spared.
Rapid Action Battalion claimed that Akram was killed in a "gunfight" between the elite force and drug dealers in Teknaf of Cox's Bazar on May 27.
Terming it a planned killing, Akram's wife Ayesha Begum demanded judicial probe into the incident, and urged Prime Minister Sheikh Hasina to ensure justice for "the killing of one of her dedicated supporters".
Rapid Action Battalion (Rab) launched its own anti-narcotics operation on May 4 while the Police Headquarters on May 16 instructed all police units across the country to conduct special anti-narcotics drives.



At least 129 people were killed in the incidents of the so-called shootouts across the country in 19 days till today.