Rohingyas rally for elephants
Int'l Day for Biological Diversity observed in Kutupalong camp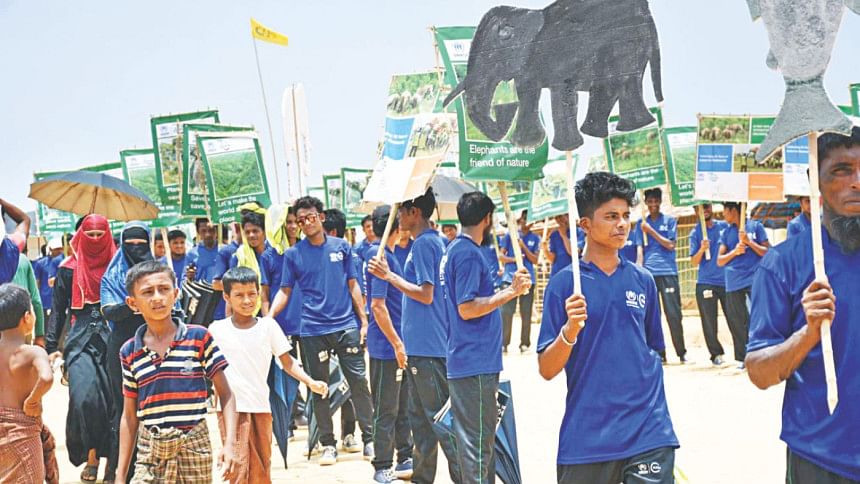 The International Day for Biological Diversity was marked in Cox's Bazar's Kutupalong refugee camp yesterday, highlighting work by UNHCR and IUCN to prevent elephant-human conflict and promoting environmental awareness.
Hundreds of Rohingya refugees volunteering as Elephant Response Team (ERT) members at the vast Kutupalong refugee site took part in a peaceful procession in several areas of the settlement, carrying placards and banners to highlight International Day for Biological Diversity.
The placards and banners, including some shaped as elephants, had slogans reading, "Elephants are the Friends of Nature", "Save Wildlife, Save Nature" and "Let's Make the World a Greener Place".
The procession took place on the 25th anniversary of the annual global event, said a press release from UNHCR. 
The volunteers were joined by Mohammad Abul Kalam, refugee relief and repatriation commissioner (RRRC); Raquibul Amin, country representative of the International Union for Conservation of Nature (IUCN); and Ehsanul Hoque, UNHCR environment officer, as well as officials from the Bangladesh Forest Department.
At a meeting after the rally, Abul Kalam praised IUCN and UNHCR for their joint project aimed at reducing incidents involving elephants coming into conflict with refugees.
"To protect us, to survive, we need forests, we need animals. We must understand how important this biodiversity is. Elephants are also part of this biodiverse ecosystem and should be respected," he added.
Part of the project includes training volunteer Rohingya refugees as Elephant Response Teams (ERTs) to guard the refugee settlements. The project will also work with the local host community.
Since the Rohingya refugee influx into Bangladesh last August, there have been at least 13 deaths resulting from human-elephant incidents in the main Kutupalong-Balukhali refugee settlement.
The highly congested Kutupalong refugee site, which houses around 600,000 refugees who fled Myanmar, used to be forest land, but is now crowded with tens of thousands of refugee shelters and services.
The site lies along one of Asian elephants' main migratory routes between Myanmar and Bangladesh. Asian elephants are a critically endangered species in Bangladesh, thought to count at just 268.
The project is part of a programme by UNHCR and IUCN, working closely with the government authorities, aimed at mitigating some of the environmental impacts linked to the establishment of refugee settlements in Cox's Bazar.