Rampal just one of many threats to Sundarbans
Say green activists on Sundarbans Day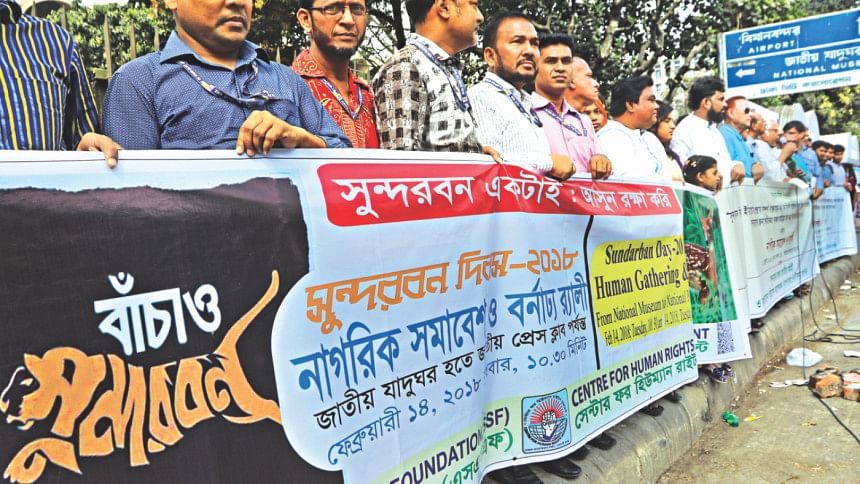 Green activists yesterday demanded that the government take immediate steps to protect the world's largest mangrove forest, the Sundarbans, by aborting all development activities and projects, especially the Rampal power plant, in the ecologically critical area.
They also called upon residents in the vicinity to forge unity and raise their voice against such projects that pose threat to the forest.
The harm done by coal-based power plants has been proven in scientific research. Hence, there is no alternative to shutting down the Rampal project, they said.
The other ongoing and proposed projects, around 300 in total, near the forest should also be stopped for the same reason, they added.
The green activists made the demands at separate programmes, rallies and human chains held throughout the country, marking the Sundarbans Day yesterday. 
In the capital, the National Committee to Protect the Sundarbans with its 57 associate green organisations formed a human chain in front of the National Museum in Shahbagh area.
Economist Prof MM Akash at the programme said around 19 scientific studies have found that the Rampal project can cause harm to the Sundarbans.
"The government has challenged these studies. We accepted it [the challenge] and offered the authorities to sit in an open debate. But, they didn't come to the debate. Instead, they are continuing the works of the projects quietly."
"Now... human chains and protest rallies will not work anymore. That's why we have to make the locals aware [of the imminent catastrophe] so they stand up against the [Rampal] project," said Akash, also a professor at Dhaka University.
Eminent writer and columnist Syed Abul Maksud said the ruling party men through different acts, like illegally felling trees of the forest and setting up industries close to it, are harming the Sundarbans cruelly.
"The Sundarbans is a part of our existence. Our heritage and culture will be destroyed if the forest is damaged," he said.
The projects harmful to the forest should be shut down and the people involved in harming it should be punished, Maksud demanded. "We, the environmentalists, are not against development. We want development keeping the Sundarbans safe."
Green activists in Bagerhat, Khulna and Satkhira organised a number of separate discussions, rallies and human chains on the occasion of the Sundarbans Day. High officials of the districts were also present at the programmes.