RU physically challenged students want 5% quota in govt jobs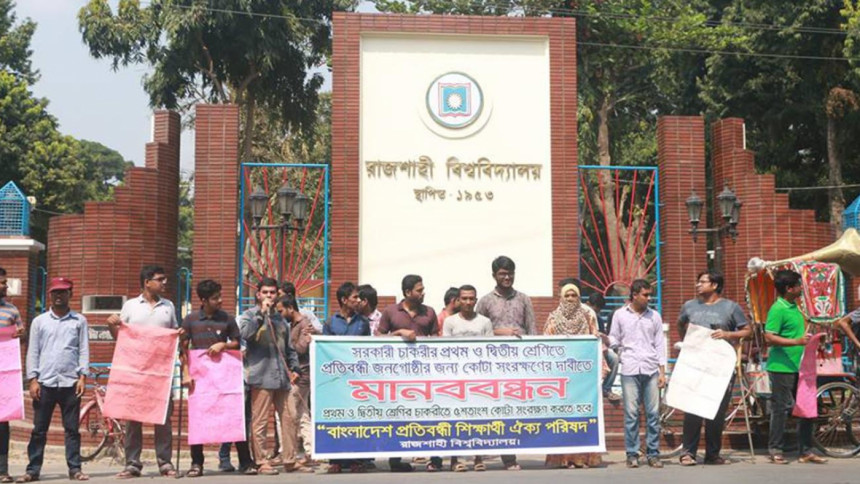 Around 25 physically challenged students of Rajshahi University (RU) today at a human chain programme demanded that five per cent quota in class-I and class-II jobs should be maintained for candidates like them in the civil service recruitment system.
Under the banner 'Bangladesh Protibondhi Shikkharthi Oikya Parishad' the protesters organised the human chain at the main gate of the university around 12:00pm, reports our RU correspondent.
Before the present quota system which was reviewed by the government recently, the physically challenged candidates enjoyed one per cent quota.
Earlier in the morning, nearly 30 students under the banner "Bangladesh Adivasi Chhatra Parishad' arranged a sit-in programme at the same place to reinstate their five per cent quota.
The agitating students blocked the Dhaka-Rajshahi Highway in front of the main gate for one and a half hours.
On October 4, the government issued a circular abolishing the quota system for class-I and class-II jobs in the civil service amid demonstrations for reinstating quota for the freedom fighters' descendants and indigenous communities.
According to the circular, the recruitment from grade-9 (class-I) and grade-10 to 13 (class-II) at all government departments, autonomous or semi-autonomous institutions, and various corporations will be based solely on merit.
Until the abolition, about 56 per cent of government jobs had been reserved for candidates from various quotas. Of this, 30 per cent were for freedom fighters' children and grandchildren, 10 per cent for women, 10 per cent for people of underdeveloped districts, five per cent for members of indigenous communities.