Rajshahi people protest move to grab Padma char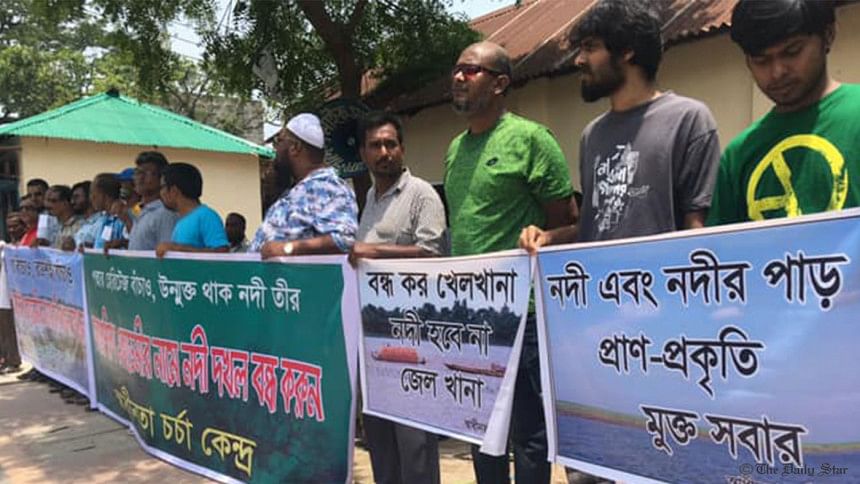 People of Rajshahi today formed a human chain protesting the prison authorities' bid to grab at least 100 acres of char land in the Padma river in the city's Sreerampur for building Prisons Training Academy complex.
Socio-cultural organisation 'Rajshahibasi' arranged the human chain in front of the District Jail to realise their 6-point demand including construction of the proposed Prisons Training Academy complex elsewhere in the city instead of the char land.
Two other organisations – Swadhinata Charcha Kendra and Tarunner Shokti -- also joined the hour long human chain programme that started around 11:00am, our Rajshahi correspondent reports quoting the convener of Rajshahibasi Makbub Tunku.
They also demanded demolition of other illegal infrastructures along the bank of the Padma river, keeping the area free from grabbers, forestation on the river bank and banning plying of vehicles on the river dam.
WHAT DID THE PRISON AUTHORITIES SAY?
The Rajshahi prison authorities have occupied four acres of the Padma char for the last three years claiming ownership though the law allows none but the government to own any piece of land gained by a river.
According to the prison officials' claim, they have sent a proposal to the land ministry in May last year for taking out a "permanent lease" on the 100-acre char land for building Prisons Training Academy complex.
However, Sebastin Rema, deputy secretary of the land ministry, said earlier to this newspaper that they did not receive any such proposal.
Last month, the prison authorities started felling trees of a forest in the area for construction of the academy complex. After cutting down 66 trees, they backed off amid protest from locals.
The forest is known to have some 100-year-old trees.
The prison officials say there are about 5,000 trees on the Rajshahi Central Jail's property where construction of the academy's infrastructure was underway. They marked some 800 trees for felling to make room for the infrastructure.