War crimes: Mir Quasem's appeal verdict Mar 8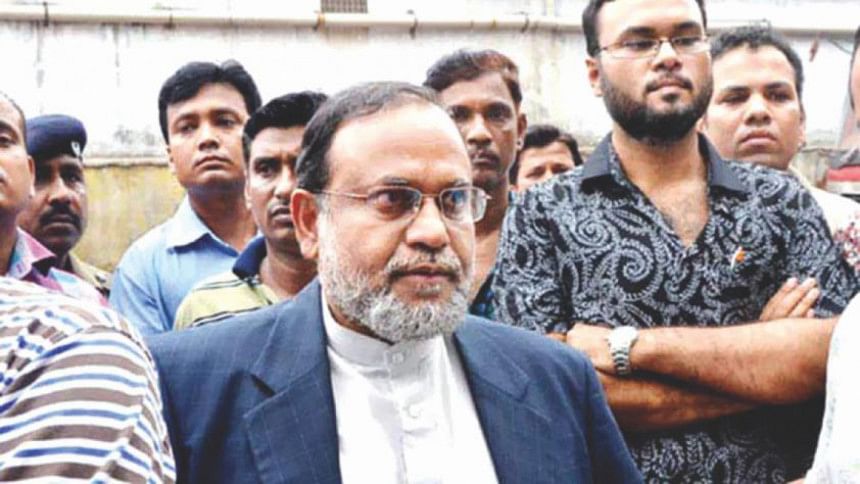 The Supreme Court today set March 8 for delivering its verdict on appeal filed by war criminal and Jamaat-e-Islami leader Mir Quasem Ali challenging his death penalty.
Earlier, the court set March 2 for delivering the verdict. After a brief period of time, the bench shifted the verdict to March 8.
The five-member bench of the Appellate Division headed by Chief Justice Surendra Kumar Sinha set the date after concluding appeal hearing of the convicted war criminal.
Attorney General Mahbubey Alam prayed to the Appellate Division to uphold Mir Quasem's death penalty – awarded to him by a war crimes tribunal on November 2, 2014.
Meanwhile, Khandker Mahbub Hossain, chief defence counsel for the war criminal , prayed to the apex court for acquittal saying that the state counsels failed to prove the charges.
READ more: DEATH for Jamaat's 'moneyman'
Mir Quasem was the president of Chittagong town unit Islami Chhatra Sangha, student wing of Jamaat-e-Islami, until November 6, 1971. He was then made general secretary of East Pakistan Chhatra Sangha.
After the Pakistan occupation forces and their local collaborators faced defeat on December 16, 1971, Mir Quasem went into hiding.
But years later, he re-emerged, and subsequently assumed the role of the chief financier of Jamaat-e-Islami.
He had been leading a lavish life until his arrest on June 17, 2012 from the office of the daily Naya Diganta, a concern of Diganta Media Corporation of which he was the chairman.
After his indictment in September last year, it took about 14 months to complete the trial proceedings.
The International Crimes Tribunal-2 on November 2, 2014 sentenced Quasem to death after finding him guilty on 10 charges for abducting, confining and torturing people during the Liberation War.
Around four weeks later, he filed an appeal with the SC, challenging the tribunal's verdict.