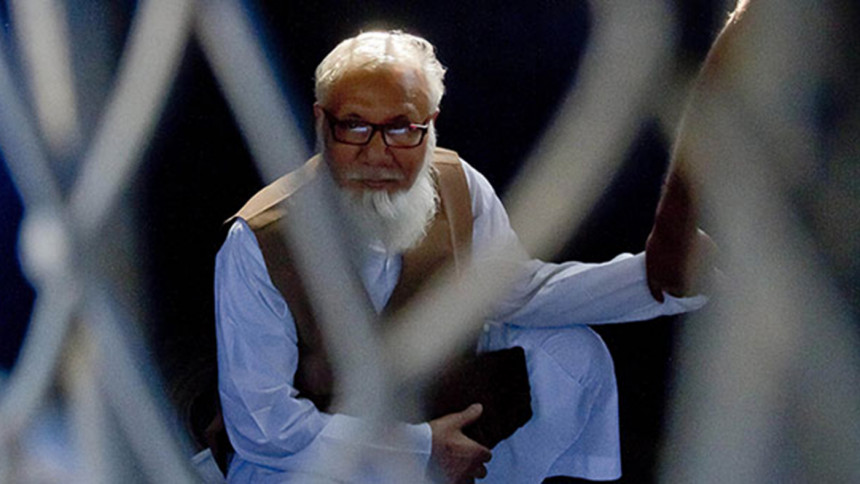 All eyes are on the Supreme Court which is set to deliver verdict tomorrow on an appeal challenging the death penalty of war criminal Motiur Rahman Nizami.
A four-member SC bench headed by Chief Justice Surendra Kumar Sinha is set to sit at 9:00am and pronounce the judgment at the beginning of tomorrow's court proceedings.
ALSO READ: Death for death designer
This is the sixth time the Appellate Division is going to deliver a verdict on an appeal against a tribunal's judgment.
The three other judges of the bench are Justice Nazmun Ara Sultana, Justice Syed Mahmud Hossain and Justice Hasan Foez Siddique.
On December 8 last year, a four-member bench of the apex court fixed tomorrow for delivering the verdict after holding hearings on the appeal for 11 days.
Both the state and the defence counsels expressed the hope that the judgment would go in their favour.
Talking to The Daily Star today, Attorney General Mahbubey Alam said he hoped that the SC will uphold the International Crimes Tribunnal-1 verdict that sentenced the Jamaat-e-Islami Ameer to death for committing crimes against humanity during the country's Liberation War in 1971.
ALSO READ: Uphold death penalty for Jamaat chief Motiur Rahman Nizami
Meanwhile, Khandker Mahbub Hossain, principal counsel for Nizami, has recently told this correspondent that he expected acquittal of his client.
"I have placed arguments on behalf of my client before the court. Now, the court will decide whether it will acquit my client or not," he said.    
ALSO READ: Nizami appeals to SC against death penalty
On the last and 11th day of the hearing, Mahbub urged the SC to acquit his client of all the charges brought against him.
He, however, prayed for commuting the death sentence of the 75-year-old Jamaat leader to life term imprisonment even if the apex court finds him guilty of wartime offences.
Attorney General Mahbubey Alam prayed to the SC to uphold the death penalty, saying Nizami had instigated war crimes, including killing of intellectuals, through delivering speeches and writing articles published in newspapers.
The ICT-1 in October 29, 2014 awarded Nizami the capital punishment on four charges of war crimes, including the killing of intellectuals.