Water crisis grips Khulna city
Groundwater depletion, lack of waterbodies the reason, say experts; KWasa unable to meet the demand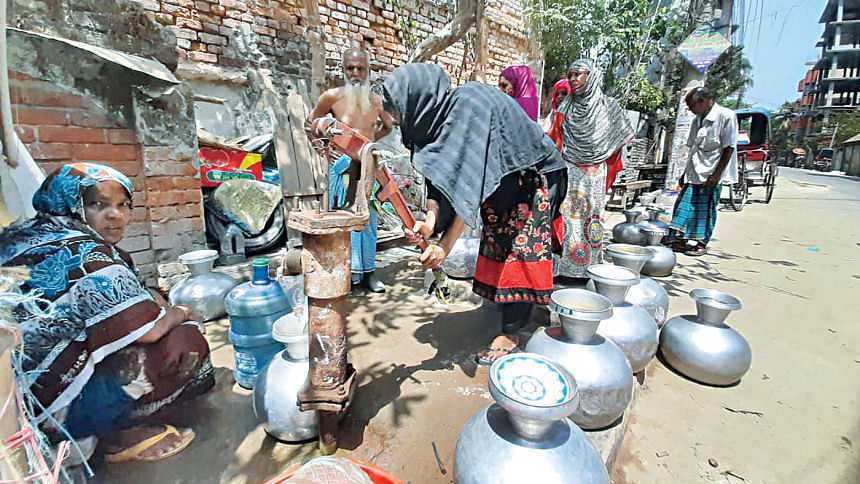 For the last two months, every morning Helena Khatun, a resident of Moilapota area in Khulna city, wakes up hoping that she will be able to manage enough water for the day.
However, due to depleting levels of groundwater and increasing salinity, the city remains chronically plagued by water shortage and thousands like Helena continue to suffer immensely.
"Water is not rising in the tube-wells like before. I am worried about what will happen when the heat intensifies," said Helena, employee of a local NGO in the city.
She said those who have installed submersible pumps can extract water but such pumps are too expensive.
As a result, many, in a desperate attempt, are rushing to the homes of affluent neighbours, who have installed the pumps, to get drinking water.
Meanwhile, to add to the residents' woe, the "purified" water of Mahdumati river that Khulna Water Supply and Sewerage Authority (KWasa) supplies through pipelines in most parts of the city is not helping much as the organisation is not giving any assurance whether it is drinkable or can be used for cooking.
Over the last few weeks, this correspondent visited different wards of the city corporation including 1-4, 6, 9, 19, 21, 22 and 28 out of the 31 wards and saw the crisis firsthand.
Many residents said they have been facing acute water crisis since the first week of March. They also said this issue has been persisting for years, especially during the dry season, with the authorities concerned turning a blind eye.
To mitigate the crisis, KWasa has implemented a mega project at a cost of around Tk 2,500 crore a few years back.
Through the project, water is being brought from Madhumati river, purified and supplied to the city. KWasa is now supplying water to 36,000 houses out of 70,150 holdings in the city through the pipeline, according to officials.
This means, they are unable to meet almost half the demand.
However, those who are getting KWasa water said their problem of drinking water has remained the same.
Tapon Kumar Das, a resident of Pabla (ward 6), said, "My tenants don't trust KWasa water. I use pump to extract water for drinking purpose and household chores."
"However, before I could fill up my water tank within two hours. Now, we have to run the pump for at least five hours to get water. At times, even that's not enough," he added.
Awal Sheikh, a resident of Iqbal Nagar, said since March 10, they were unable to get sufficient water through the pump. "Though we are getting water through KWasa pipeline, we don't know if that can be used for drinking and cooking," he added.
He said they (he and other residents) now fetch water from different areas.
Similar problems have been reported in Gobarchaka, Basupara, Farajipara, Mirzapur Road, Baitipara, Ahsan Ahmed Road, Tutpara, Basupara, West Baniakhamar and Babu Khan Road areas.
Meanwhile, those who installed submersible pumps are not faring any better either. It's getting tough for them to extract water due to groundwater depletion.
Experts, however, said installing these pumps for extracting water is having a serious consequence as the underground water level has also gone down drastically over the years.
Prof Mustafa Saroar, head of Department of Urban and Regional Planning at Khulna University of Engineering & Technology, said, "Khulna residents are already facing the effects of groundwater depletion. The crisis may get severe in a few months."
"Lack of waterbodies and excessive extraction of groundwater are the main reasons behind this crisis," he added. "We need to stop extracting groundwater completely."
Prof Saroar said the areas where KWasa supplies water should not have such pumps to extract groundwater, which is worsening the situation.
He said the authorities concerned need to create more retention ponds and excavate waterbodies to mitigate the crisis.
Contacted, Kamal Uddin Ahmed, deputy managing director of KWasa, said at the beginning of summer, groundwater level has gone down.
"Hand-driven tube wells cannot extract groundwater if the water table drops below 26 feet. And the motor pumps (submersible pumps) do not work if the table drops below 30 feet," he added.
"The water table was between 28 feet and 30 feet in most places of the city last year due to insufficient rainfall in the region. This year, we found more places where groundwater has decreased," Kamal said.
Asked about the quality of the KWasa water and residents' reservations, Md Abdullah, managing director, did not directly comment on the issue.
He, however, said, "We collect water from the Madhumati and treat it. It's 100 percent pure and drinkable. But we do not know in what condition the water reaches the consumer after running through 40-50km in the pipeline."
"We cannot immediately say for sure if there's a hole in a pipe or one is damaged for some reason. For this reason, city dwellers should boil the water before drinking it or cooking with it," he added.
About people installing pumps to extract groundwater in KWasa areas, he said they will launch a drive against that shortly. "We haven't taken any action yet considering the prevailing situation."
Besides, they are also working on adding more households under KWasa, which will help mitigate the water crisis in the city, he added.