Towards an enlightened nation
Bishwo Shahitto Kendro awards best readers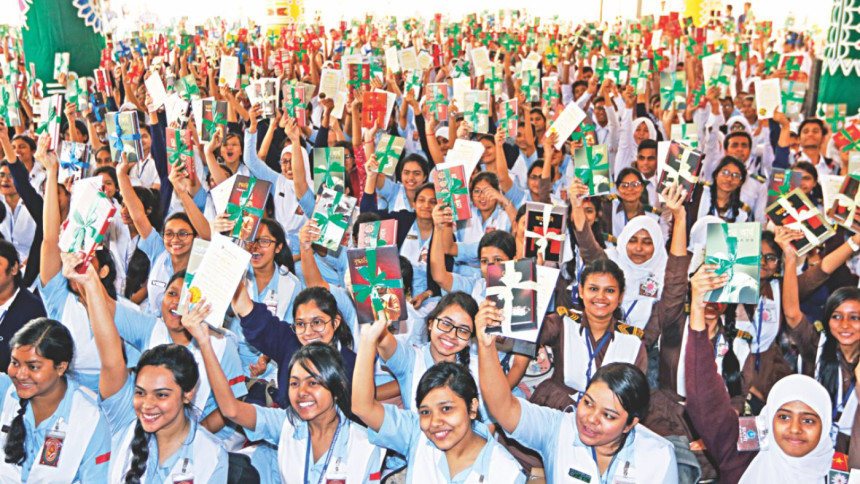 Asif Karim Patwary, a visually impaired student of class XII of Notre Dame College, yesterday came to Bangladesh Shilpakala Academy auditorium in Dhaka to receive the award he won in the year-long "Book Reading Programme" of Bishwo Shahitto Kendro (BSK).
Recounting his experience, Asif, who was holding his mother's hand, said, "Samrat Bhaiya [a volunteer of BSK] and my parents used to read out the books to me. This way, I 'read' 12 books."
Some 744 students from 21 colleges of Dhaka city received awards in four categories: those who finished reading six books were placed under the "Shagoto" category, eight books under "Shubhechchha", 10 under "Abhinandan", and 12 under "Shera Pathok".
"These were not the kind of books we usually get to read. History has been presented in these books through stories," said Nusrat, another class XII student of Bir Shreshtha Noor Mohammad Public College.
Around 24 lakh students from 14,000 schools across the country are now under the programme, according to BSK officials.
Speaking as a guest, former principal secretary Kamal Chowdhury said, "Prizes are as fleeting as the life of a butterfly. You have to uphold the honour and significance of the prize."
Noted writer and journalist Anisul Hoque said, "The materialisation of Microsoft founder Bill Gates' and engineer FR Khan's dreams were powered by books" and recommended that students present at the event further develop their reading habit.
Praising the initiative of BSK, media personality Dr Abdun Noor Tushar said, "A country becomes great when its people become knowledgeable, and BSK has been working tirelessly towards that goal for the last 40 years."
Shah Md Moen Uddin, deputy managing director of IFIC Bank, said, "We are happy to be associated with a noble initiative that promotes reading."
Khandaker Mohammad Asaduzzaman, member of BSK trustee board, who presided over the programme, said, "You shouldn't only live your life; you have to celebrate it. You have to share the joy gained through reading books."
He also thanked all the teachers and guardians for their assistance in holding the programme.
BSK has been conducting the countrywide programme for the last 40 years with a view to groom generations that are enlightened and possess admirable values.
Through the BSK programme, students get the opportunity to read some of the best books – compatible with their maturity level – from around the world.