A restaurant-turned-community kitchen
Abinash Bangla feeding dozens of low-income people every day in capital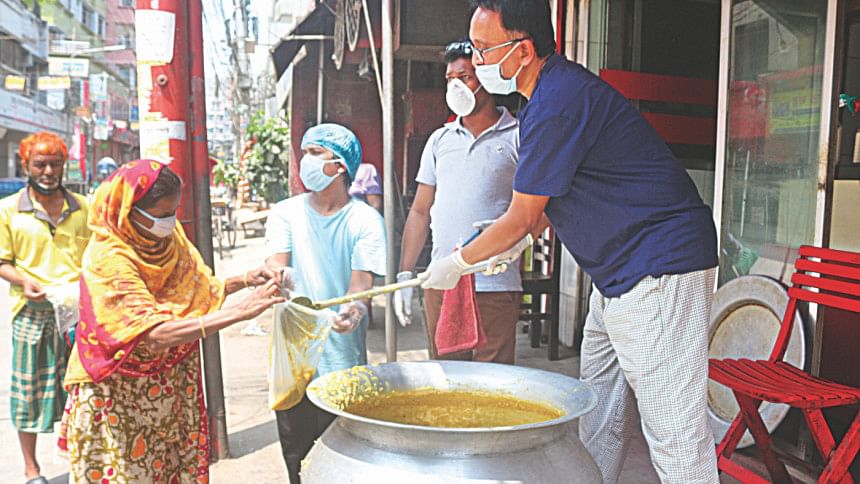 As the clock hits 12:30pm, a group of people can be seen busily organising meal-plates at the Mazaa restaurant in front of Mohammadpur Tajmahal Road's Krishi Market.
Seeing this, one might wonder why and how a restaurant is staying open during the ongoing countrywide shutdown to contain the spread of the novel coronavirus. One might also wonder why there are a number people from lower-income groups gathered there.
"Although my restaurant is closed, I keep the kitchen open so that needy neighbours can come have a lunch prepared by volunteers," said Sadaf Hasnaen Manzoor, owner of the restaurant and founder of Abinash Bangla Foundation -- a volunteering organisation.
Since April 4, around a hundred people have been eating at this community kitchen every day, under an initiative called "Madhyanno Bhoj Eksho" (Lunch for a hundred people).  At the start of the programme, the Abinash Bangla team enlisted around 25 families of the area to provide them healthy and fulfilling meals.
All of these families depend on incomes from professions that have been severely affected by the shutdown -- tea stores, makeshift vegetable shops, low-cost garment business etc. As the shutdown hit, these traders became jobless overnight.
"We wanted to officially launch our foundation on April 14 so that we can start our activities on the first day of the Bengali New year. But as the Covid-19 crisis hit, we decided to start early considering the needs of the less privileged (of the area)," said Mahmud, one of the members of the foundation.
The organisation chose Tajmahal Road as the starting point as most of its 11 committee members live here and have liaison with poor families of the area.
"We know every one of the families as we live nearby. They are our neighbours, who are currently out of jobs or going through a rough patch with their businesses. We are trying our best to help them out during such a time," Mahmud said.
But the initiative is not limited to just these 25 families. Often, people from outside the list – primarily rickshaw-pullers -- walk in and ask for meals, and the volunteers don't refuse them.
"We know providing one meal a day is not enough, so we are trying to raise more funds. A lot of people are helping us by providing cash or groceries. A lot of individual donors have contributed everything from Tk 100 to sacks of rice," Mahmud continued.
It is mandated that only one person from each family come. "As one person from each family comes collect the meal, we don't have trouble maintaining social distance." Mahmud explained the distribution process.
The diners come in with boxes, bowls, or pans to collect the meals. The menu consists of vegetable hodge-podge, rice, and lentils mixed with fish, meat or egg.
As the restaurant's regular chef was sent on vacation due to the crisis, the organisation arranged for another chef to cook during the shutdown, while volunteers buy the groceries needed, owner Manzoor said.
He urged other restaurant owners to start similar initiatives to help out during such dire times.  "Restaurant owners usually have good income. If they come forward and organise such community kitchens, no one will need to go unfed no matter how bad the situation gets."
"The Government can support restaurants or at least encourage them to take such initiatives," Manzoor told this correspondent.
If needed, the organisation can help carry out this task. "In fact, even Abinash Bangla can take responsibility and organise one such community kitchen for every ward (in Mohammadpur), but we need the local leaders' support for that," he said.
But how long does the organisation plan to keep it up, and how long can they keep it going, this correspondent asked Manzoor.
"We want to continue for 45 days from today (Wednesday), but if necessary, we can extend it. For Ramadan, we are planning to provide Seheri meals from our own fund. We also want to offer Iftaar, but that is contingent on raising more funds."