Govt officials' restrictive mindset hindering people's right to information: experts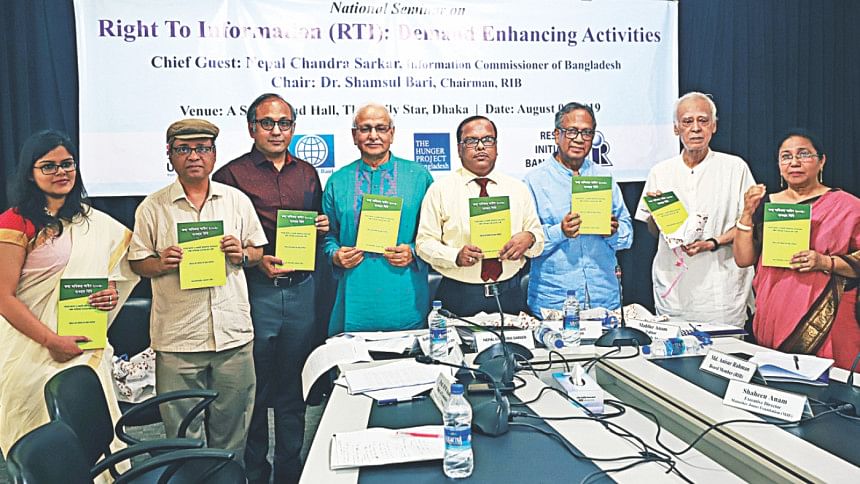 While the Right to Information (RTI) Act is a powerful tool for people's empowerment, some inherent flaws and restrictive mindset of a section of public servants stand as barriers to achieving its fundamental goals, said RTI experts at a seminar yesterday.
Silly errors like mistaking the name of an officer designated for providing information may lead to rejection of an application seeking public information, they said.
Research Initiatives, Bangladesh (RIB) jointly with The Hunger Project Bangladesh organised the national seminar on "Right to Information: Demand Enhancing Activities" at The Daily Star Centre.
"Knowing the very name of a designated officer and the appellate authority of a government office sometimes turns out to be an enormous barrier for an applicant," said RIB project Coordinator Ruhi Naz while presenting the key findings of a year-long project on training RTI activists.
It takes a lot of effort for an applicant to know the names, and the updated list of names is not available on the official website of Information Commission either.
The trained RTI activists who took part in the seminar from different parts of the country unanimously demanded for omitting the rule of mentioning the names. They argued that stating the designation should be adequate.
Badiul Alam Majumdar, country director of The Hunger Project Bangladesh, said in a democracy, holding those in power accountable through the parliament is a must.
"But under current circumstances, with such a system ineffective, it is the people who have to hold the government accountable with a vital tool like the right to information law," he said.
Terming the RTI act an epoch-making law, Shaheen Anam, executive director of Manusher Jonno Foundation, said it [RTI] is the tool for exercising people's rights.
But there is still a long way to go towards motivating people to apply the law more, particularly regarding the country's governance issues and revenue budget expenditure, she said. There is a fear factor among people in regard to applying the RTI law, she added.
Mahfuz Anam, editor and publisher of The Daily Star, said journalists should have been more interested in applying the law but unfortunately that has not happened.
He suggested a countrywide campaign for application of RTI and increasing the number of volunteers on the occasion of celebrating completion of a decade of the law.
Information Commissioner Nepal Chandra Sarkar also agreed that there is a fear among people as to applying for official information. He said the commission is also working to motivate designated officers.
With a view to enabling the marginalised communities and creating a pool of RTI activists, the project was conducted in seven upazilas of Dinajpur, Naogaon, Rajshahi and Satkhira.
According to the presentation, RIB and The Hunger Project generated over 18,000 RTI applications, of which over 61 percent applications received full and partial responses.
Hasibur Rahman, executive director of MRDI, and MM Akash, a professor of economics at Dhaka University, among others spoke at the seminar, conducted by RIB Chairman Shamsul Bari.