DCC polls: What newly-included wards want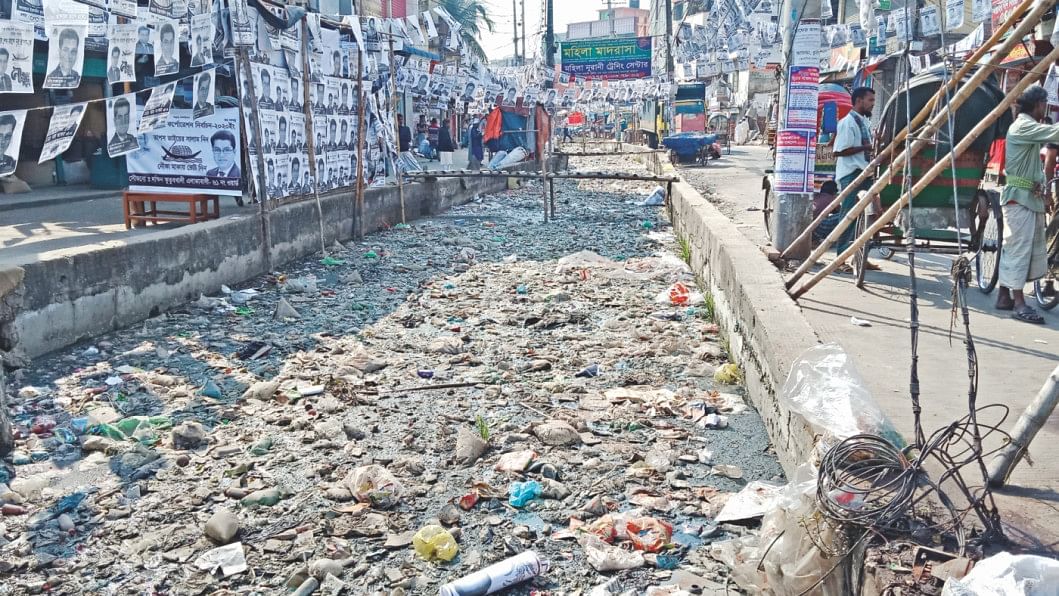 Roads, mosquito, waterlogging the biggest concerns
Speeding up mosquito control activities, proper waste management, repairing roads and solving waterlogging problems -- these are the main issues residents of newly-added wards expect to be solved by their mayor.
Residents of the areas also want initiatives to solve their crises regarding drinking water, dust, and drugs.
A total of 36 new wards were added to the two city corporations on July 30, 2017, of which 18 were included in Dhaka South City Corporation (DSCC).
Residents of these wards will cast their votes for the first time to elect a mayor of their choice in the upcoming city corporation polls, slated for January 30.
This correspondent visited four of the 18 wards -- 60, 61, 62 and 63 -- and found out about the expectations from residents.
A number of roads in Matuail Mridhabari area under ward-63 are in dismal condition, said Abdul Ahad, a resident of Mridhabari.
He said the Matuail city corporation road remains unclean round the year with solid wastes, as the authority does not take any measure to clean it on a regular basis.
DSCC authorities in the last seven to eight years did not take any steps to construct the road properly, except doing some repair works partially, he said.
As garbage-carrying vehicles of DSCC use the road to dump waste its landfill in Matuail, rubbish often drops on the road from the vehicles. But authorities concerned do not take any initiative to clean it, he said.
The busy Jatrabari-Demra road is also in poor condition, which also will have to be given proper attention along with proper drainage network, he said.
Raisur Rahman, a resident of Gobindopur under ward-62, said drug addiction is a big problem in their area, as a large number of youths in the neighbourhood are addicted to narcotics.
"We hope the newly-elected mayor will take initiative to solve this social crisis, involving law enforcement agencies," he said.
Mosquitoes and garbage management are the other major issues of the area, Raisur said.
Though around two years have passed since the inclusion of their ward in the DSCC, no garbage carrying truck was deployed to collect solid waste. Solid waste is still being managed by local people, he said.
Mohammad Iqbal Hossain, a resident of Polashpur under ward-60 said dust, water, and mosquitoes are the main problems of their area.
"My whole family has been suffering from asthma or cough for the last several months due to severe dust at the area," said Iqbal.
Getting clean water through Wasa's supply pipeline is another problem in their area, as many residents get dirty water in their households.
"We hope the mayor will take initiative to solve the problem involving Wasa," he said.
Anowar Ali, a resident of Kutubkhali of Jatrabari under ward-61 said many people dump their garbage into the nearby canal. An initiative by the mayor will have to be taken to ensure its cleanliness, as this canal is vital to solve waterlogging, he said.
Though the condition is a little better since the Bangladesh Army took charge to solve waterlogging in DND area, Kutubkhali canal is being filled up with garbage within few months of being cleaned due to lack of awareness, said Md Yunus Munshi, a resident of Donia.
Waiting to enjoy fruits of 'city life'
Although new wards came under Dhaka North City Corporation (DNCC) in 2017 through a government gazette, residents got councillors as their local representatives only last year through by-polls at ward levels.
Although a year has gone by and full-fledged city elections are knocking at the door, problems in the wards remain the same. 
This correspondent visited wards 37 through 41 yesterday and talked to locals about the major issues in their areas.
 Ward-39 includes Nurerchala, Khilbariktek and Syeednagar, where waterlogging remains the biggest woe. Even during dry weather, parts of the road are muddy and slippery due to the overflow of drains on the road. Such condition has been going on for years, locals said.]
This correspondent (Mathews Chiran) yesterday saw people wading through ankle-deep drainwater, while shop owners were stuck in their stores on both sides of the road in Baridhara Mohila Samity lane under Nurerchala.
"This happens every Friday. Water overflows from the drain as all inhabitants of the area use water at the same time at noon. The waterlogging stays for four to five hours, and when its gone, it leaves mud," said businessman Russel Rahman, who has been enduring such experience for more nearly five years.
"The road is not in good condition either," complained Sazia Akhter who was standing nearby.  
Ward-40 includes Bhatara Thana. According to locals, cemented roads were constructed in the area while it was under union parishad. But after that, no visible development took place for the road.  
"Some part of the roads have become damaged and sewerage slabs are entirely broken, but no none cares to fix them," said Abul Kalam, a pharmacist living in the area for 30 years.
Ward-41 includes Padardia, Taltola, Dakkhinpara, Uttarpara under Satarkul. Roads in the area are congested, while there are several factories in the residential areas.
Mosquitoes are also one of the major menaces residents have to deal with.
Besides, there is a culvert in south Padardia, with no railing.
"Children fall from the culvert into the water accidentally while playing, and there is no railing on sides of the culvert since the beginning. A couple of years back, a child died after falling in the canal," said Mizan, a local businessman.            
Another resident Shamim Sayem alleged, "Fire broke out in a foam factory in our area recently. Fortunately, we could tame the fire with the help of neighbours. Why would there be factories in the neighborhood where people live?"
Contacted, councillors said the city corporation did not have any budget for the new wards, therefore they could not carry out development work in the area.
"We had to spend our own money to do some development work. Now Tk 4,300 crore has been sanctioned from Ecnec (for development of the new wards). Hopefully, after the election, people from these new wards will see changes," said councillor of ward-40 Nazrul Islam Dhali.
Asked about the issues of ward-41, its councillor Shafiqul Islam said, "Setting up  railings at the culvert area is the responsibility of Wasa. We informed them but it did not work out. Besides, we informed the department of environment to take down factories in the area, but to no avail either."