Chhatra Federation calls for release of Shahidul and student leaders
Announces nationwide demo on Sept 17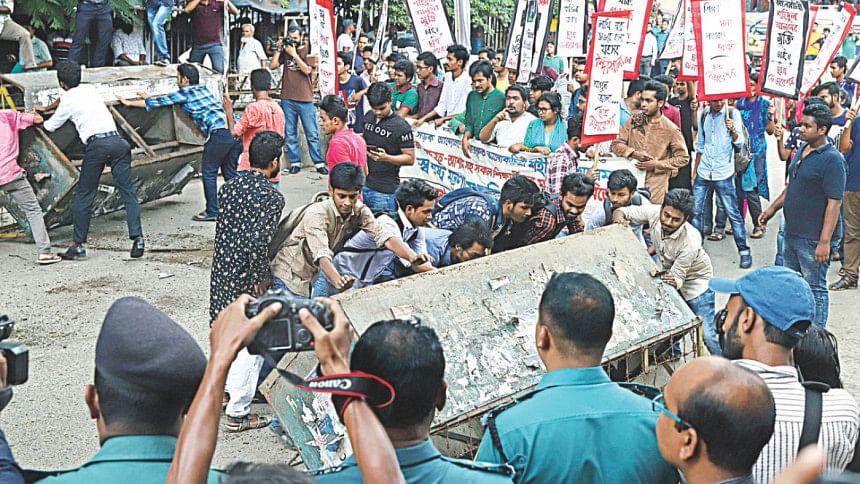 Bangladesh Chhatra Federation yesterday announced nationwide demonstrations on September 17 if eminent photographer Shahidul Alam and its detained leaders are not released immediately.
"If the detainees are not released and the false cases filed across the country are not withdrawn immediately, protests will be held on September 17 across the country," said Golam Mostafa, president of the student body.
He came up with the announcement at a rally in front of the Secretariat.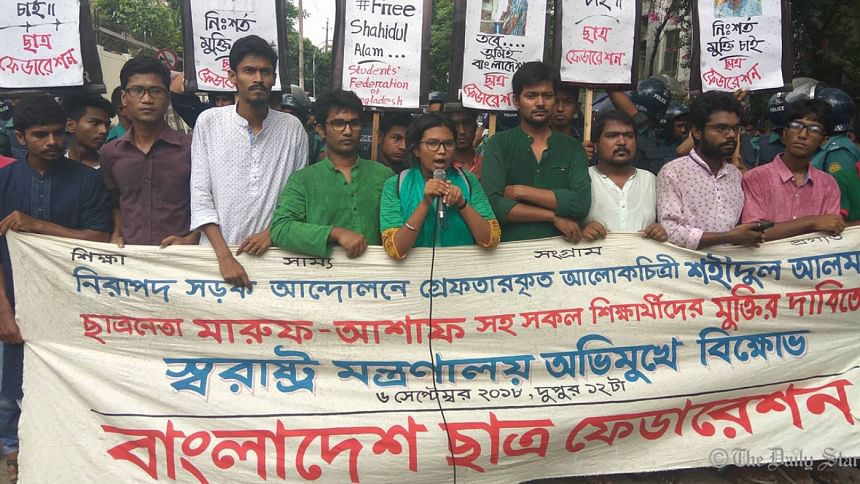 Earlier, around 100 leaders and activists of the student organisation brought out a procession from Aparajeyo Bangla on Dhaka University campus around 12:00pm and marched towards the home ministry.
Police stopped the procession in front of the Secretariat where they held a brief rally, holding banners and placards.
The protesters demanded release of two of its leaders of Chittagong University unit -- Maruf Hossain and Aziur Rahman Ashaf -- who were detained during the student protests for safe roads in August.
According to police, they were detained for spreading rumours and false information against the government on Facebook during the protests for safe roads. A case was filed against them under the Information and Communication Technology (ICT) act.
Jahid Sujan, general secretary of the student body, said, "It is evident from the cases filed against anonymous people across the country that the rulers are scared of students and their movements," he said.
Golam Mostafa alleged that several demands emerged from the student movement, but the government did not fulfil most of them.
Condemning the detention of Shahidul Alam, he said the way an internationally acclaimed photographer was detained and "tortured" was regrettable.
Shahidul Alam is currently in Dhaka central jail; a case has been filed against him under ICT Act for "spreading propaganda and false information against the government".