Ice crunch puts hilsa traders in a tight spot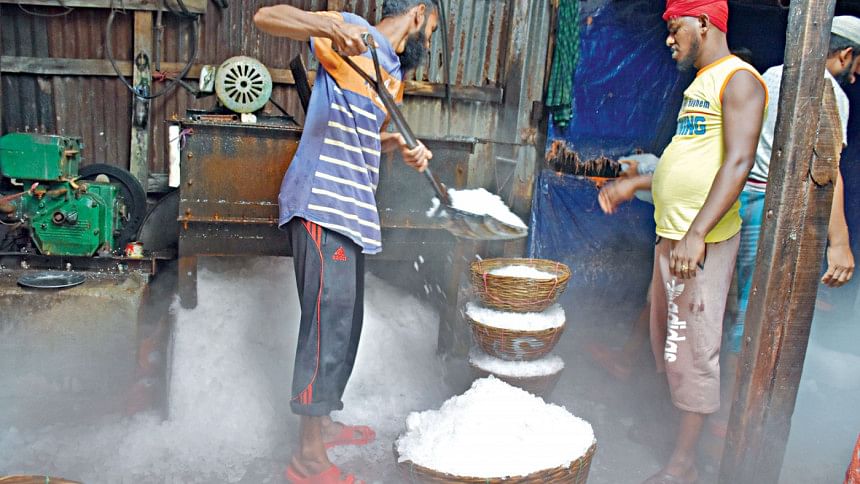 Thanks to strict monitoring against jatka netting and government programmes to conserve hilsa, production of the fish has seen a steady increase in Barishal, and this year has been no different.
Since the start of the season, a record number of hilsa are being netted, and  large sized hilsas are flooding the local markets.
But processing this huge amount of fish is becoming worrisome for fishers and traders as there is no system or facilities, such as cold storage, to preserve the fish in the region.
The fish are being preserved by keeping them in ice or sprinkling ice chips on them constantly. With heaps of fish being netted, now there's a crisis of ice as well, with supply from Khulna proving inadequate.
Traders fear that not only quality of the fish are being affected, but this prized bounty could go to waste for lack of preservation. Due to the demand for ice, price of ice blocks have also skyrocketed, they said. 
As a result, they have to make the hard choice to sell the fish at a lower price and count loss, ot risk their catch go to waste.
Hashem Majhi, a fisherman from Charfassion of Bhola, said they used to go to the sea with 20 blocks of ice per trawler, but now they could afford around 10-15 as the price is almost three times higher.
"Often times, we cannot apply ice chips on all the fish while returning, which affects the quality of the fish," he said. "What's the point of netting so many fish, if we cannot store or preserve them properly?"
In the fishing ports of Barishal, Barguna and Patuakhali, ice is sold at Tk 120 per block in regular time. It has now risen to around Tk 350 a block. 
Hachan Sardar of Sumon Enterprise at Barisal Port Road Wholesale Hilsa Market said the market needs at least 7,000-8,000 cans of ice every day. "But not even half of it is produced here. We have to bring ice from Khulna at a higher price," he said.
Faruk Sikder, a member of the Barisal Ice Factory Owners' Association, said only eight ice factories are in production in Barishal.
"A maximum of 4,000-5,000 blocks of ice are produced here. It's not possible for us to meet the demand for lack of manpower and adequate electricity supply," he added.
Other centres for hlilsa such as Mahipur-Alipur, Kalapara, Kuakata of Patuakhali district, Patharghata in Barguna are also facing similar crisis.
Twenty-five ice mills in Mahipur and 16 in Patharghata are not able to produce enough ice due to lack of uninterrupted electricity, said mill owners. 
Maruf Khandaker, general secretary of the Patharghata Matsya Arotdar Samity, said if the ice crisis is not resolved, this time no one in the hilsa sector will see any profit.
Most importantly, they need cold storage facilities to preserve the fish, said Nirab Hossain Tutul, president of the Barishal Matsya Arotdar Samity. 
"Though 1,000-2,000 maunds of hilsa are being netted every day at normal time and 3,000-4,000 maunds at peak time, 1 to 2 percent of the fish rot due to the crisis."
Admitting the problem, Bimol Chandra Das, district fisheries officer (hilsa), Barishal, they will look into the issue. "This is a serious crisis and I think local businessmen should come forward to come up with a solution," he added.