A helping hand during times of crisis
Uthshargo making 10,000 bottles of hand sanitiser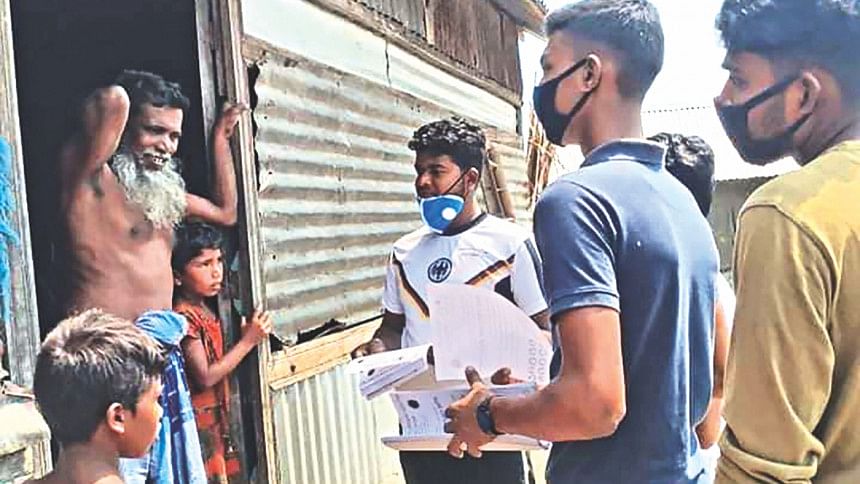 As Covid-19 has everyone worried across the country, people are compelled to take precautionary measures, such as frequently washing hands and using hand sanitisers to ward off the highly contagious disease. 
Due to the high demand, supply of hand sanitiser has thinned. And even if it were readily available, people with low incomes cannot afford it anyway. Keeping that in mind, a couple of organisations are doing their best to provide sanitiser to those who cannot afford it.  
Uthshargo Foundation Bangladesh, a non-profit volunteer organisation, is producing 10,000 bottles of hand sanitiser for those in need.
"We've produced 5,000 bottles so far. We distributed some among rickshaw-pullers and labourers in different parts of the country, including Khulna, Pabna and Dinajpur," said SK Shareyar Panna, a volunteer of the organisation.
"We've also sent some to different hospitals for doctors," added Panna, also a medical student.
They are churning out bottles with only 11 volunteers, who are medical and pharmacy students.
"We are making 50ml bottles. Following World Health Organization (WHO) guidelines, we're producing them in a lab at Mirpur. The main ingredients include isopropyl alcohol, hydrogen peroxide, distilled water and glycerol," said Gunjon Haque, a masters' student of pharmacy at Jagannath University. 
So far, they have distributed hand sanitisers in 14 districts through their volunteers. They also distributed at different institutions, including Bangladesh Nursing and Midwifery Council and Bangladesh Medical and Dental Council (BMDC).
BMDC Deputy Registrar Dr Liyakot Hosen, who received the sanitisers, said, "The foundation has recently given us three-dozen samples of their sanitiser, which is a commendable initiative."
According to Panna, while distributing sanitisers, they do not inform locals beforehand, as it might create a chaotic situation. Two to three volunteers visit a designated place where people from lower-income groups live.
The organisation started its operations in 2016, aiming to increase the number of blood donors. Along the way, they started work centring mental-health and anti-drug issues. Uthshargo now has more than two lakh volunteers across the country.
"As WHO recently declared Covid-19 as pandemic, we decided to do something that'll help people, and that's why we've taken this initiative," said Uthshargo Founder Chairman Md Imrul Kayes.
"Volunteers are the lifeblood of this foundation. We're also able to continue our work through donor support. It's all these kind-hearted people who make it all possible," said Imrul, also an assistant exam controller of The State Medical Faculty of Bangladesh.