First Day of SSC Exam: Wrong question papers given to hundreds of examinees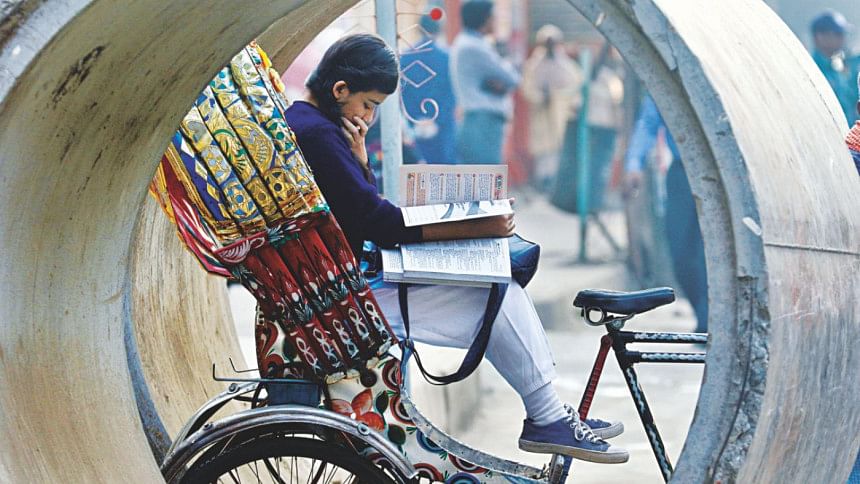 Question papers based on 2018's syllabus were provided to several centres in four districts across the country on the first day of the Secondary School Certificate (SSC) and equivalent examinations of 2019 yesterday, causing alarm among examinees and guardians.
The first day's exam was on Bangla (first paper).
As many as 600 examinees at the PS Government Model High School centre in Manikganj's Daulatpur upazila took part in the exam with wrong multiple-choice question (MCQ) papers supplied by invigilators.
A number of SSC candidates alleged that they informed the secretary of the centre, hall super and invigilators, but they initially tried to sweep it under the rug, and told students they had to answer whatever questions they were given.
Examinees began to demonstrate at the centre after the exam, until the secretary and hall super of the centre calmed them down.
Secretary of the centre Mizanur Rahman told reporters that they had informed the higher authorities about the matter, but were told the students would be graded on the question paper they answered.
In Chattogram, wrong question papers of Bangla first paper were supplied to examinees in at least seven centres, including Municipal Model High School, Dr Khastagir Government Girls' School, Patenga High School and Garib-e Newaz High School of the port city and Ukhiya Girls High School, Pekua Girls High Shcool and Ukhia Palong Ideal High School in Cox's Bazar district, education board officials said. 
Contacted, Mahbub Hasan, exam controller of Chattogram Education Board, told The Daily Star that they received the allegations of wrong distribution of question paper from seven schools across the division.
Seventy-seven students at Municipal Model High School, 14 students from Dr Khastagir Girls' School and 50 students from Ukhiya Girls High School were given wrong question papers, he added.
"We issued show-cause notices to seven invigilators for distributing wrong question papers. We don't know the exact number of the students who were given the wrong question paper. We won't let the students suffer," he assured.
Amzad Hossen Khan, a guardian of an SSC examinee told The Daily Star that his daughter, who appeared at the Nasirabad Girls' School centre, was a regular examinee of 2019, but was given the MCQ questions of 2018.
"She did not notice it first, and thought the question was tough this year.
She realised that she was given the question paper of 2018 after the exam," he said.
Amzad said his daughter was crying since then. "Invigilators distributed the wrong question papers jeopardising the future of students. Who will take responsibility for it?" he questioned. A similar situation was reported from AVJM Government Girls' High School centre in Munshiganj, where 79 students were given question papers of previous year's syllabus. 
Examinees at the centre said some of them had informed of the mix-up to the authorities present, but they did not pay heed to it.  Talking to reporters, Additional Deputy Commissioner (education and ICT) of Munshiganj Asma Shaheen said it was invigilator's fault to not have informed the hall super or secretary of the centre. The authorities have had notified the exam controller about the matter, she added.
Principal of KK Govt Institution in Munshiganj Md Mansur Rahman said it was a grave mistake, which could severely hamper the students. He said the text book was changed in 2016, so students who were in ninth grade at the time and are attending their SSC exam now, are supposed to be tested on a new syllabus. The 2018 SSC questions were based on the previous syllabus.  Question papers of previous year's syllabus were also supplied to another 74 students in MNBP Government Girls High School in Sherpur, but the anomaly was detected early, and those were replaced by photocopied question papers of this year after invigilators learned about the matter.
Those examinees were given extra 20 minutes, so that they could use the time wasted by the mistake, said exam centre secretary Md Abul Khair. He said there were question papers of 2018 inside a packet containing the question papers with 2019 written on the packet, supplied from Dhaka Board.
"It was not ours but the board's mistake," he added. The exam began at 10am at 3,497 centres all over the country, with 17,88,319 students taking part and 10,387 remaining absent. A press release of the education ministry's Central Control Board said 24 students were expelled, but the reasons were not stated.
Meanwhile, Education Minister Dr Dipu Moni yesterday said the government would take tough measures to prevent the leak of question papers of SSC and equivalent examinations. She made the remarks while visiting an exam centre at Bangamata Sheikh Fazilatunnesa Mujib Government Secondary School in the capital's Ashkona.
This year, a total of 21,35,333 students -- 10,70,441 boys and 10,64,892 girls -- from 28,682 institutions, have registered for the exams. The number of examinees rose by more than 1.03 lakh from last year.